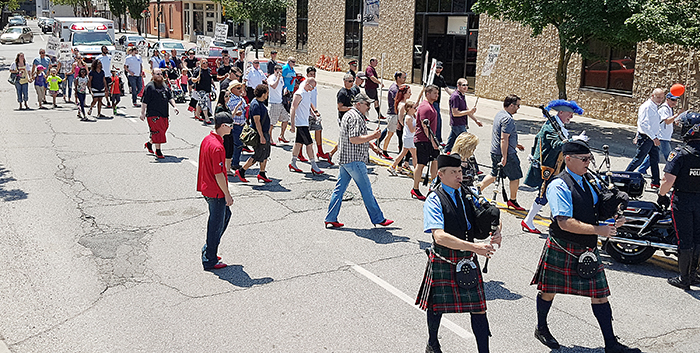 Saturday's Walk a Mile in Her Shoes event in downtown Chatham raised close to $20,000.
Karen Hunter, executive director of the Chatham-Kent Women's Centre, said final numbers hadn't been calculated as of press time, but she was impressed by the effort.
"We had a nice group of men take part. It was a good turnout. There was lots of community support," she said. "But more importantly, it raises awareness for why the walk exists: to end the sexual violence and intimate partner violence in the community."
Hunter said one in three women in Canada have been sexually assaulted at some time in their lives. One in four say they've been abused at some point as well.
"These numbers are staggering," she said.
Local men, including Chatham-Kent Essex MP Dave Van Kesteren, local police chief Gary Conn, and other emergency services personnel took part in the ninth annual event. A trio of young men even jogged across the finish line in their red high heels.
Other men limped across, their feet in agony from a mile trek in unfamiliar high heels. Town crier George Sims had an equipment malfunction – he broke a heel midway through the walk – but soldiered on with one heeled foot and the other in just his sock.