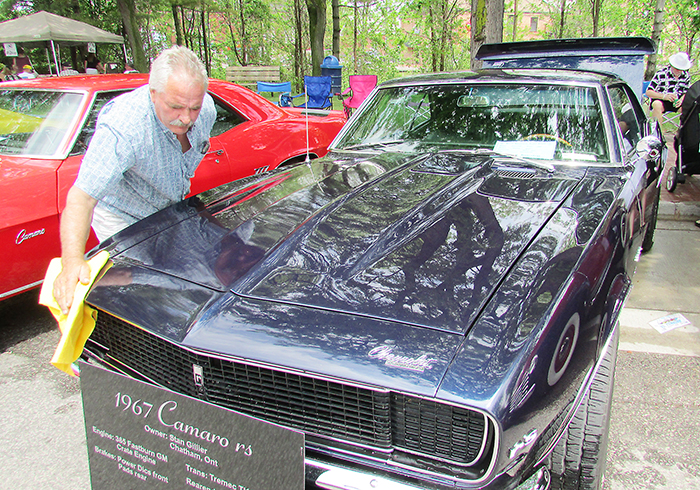 Classic car ownership is a club with few borders, according to members of the Kent Historic Auto Club (HKAC), a driving force behind RetroFest.
"We're involved with people around us. We go to Sarnia, go to Windsor. And they come here," Len Langlois of HKAC said. "Same for tri-counties and London."
As a result, while there are geographical clubs of enthusiasts, as is the case here with HKAC, they like to gather to support one another.
"It's a Western Ontario event," Langlois said of RetroFest, which is entering its 17th year. "It's grown to that."
And grown it has. He recalled the first year, when RetroFest took place on the north side of the river, essentially contained to a parking lot.
It expanded to the laneway beside the Thames River behind businesses on the north side of King Street between Fourth and Fifth streets, and soon blossomed to where it takes up most of the downtown.
This weekend, classic automobiles – all 25 years or older in age – will line King Street from Second Street almost all the way to Adelaide Street, as well as up Fourth and Fifth streets to Wellington Street.
Between 500 and 600 classic cars and trucks will be on display.
Despite all that space, there's still a competition for the prime spots, be it for display purposes or practical purposes – such as best spots for shade on a warm, sunny day.
"The guy who gets up early gets the spot," Langlois said. "At 6 a.m., there are probably 100 cars downtown."
Langlois said the number keeps growing, as does the variety.
"We're picking up a few new ones each year," he said.
Members of HKAC volunteer to help put on the event, but many also enter their cars in the show and/or the OLG Classic Car Cruise on the Friday night.
Langlois said some prefer one event to the other, and that's the case for out-of-town visitors as well.
"Some take part in the cruise and don't want to sit there Saturday," he said. "And some come for the show Saturday and don't take part in the cruise."
The reward for all the hard work putting on RetroFest is simple, Langlois said.
"We have a lot of people downtown. At 1 p.m., you can't even drive a golf cart down there. It's plugged up tight with people. That's why we're doing it," he said. "We like to showcase what we have and bring people into the city. I think this is excellent for the economy and the area."
Langlois said visiting vintage owners enjoy RetroFest, adding HKAC receives excellent feedback.
HKAC, with the help of BDO, is putting on a food drive this year. Bring a non-perishable food item to the parade marshaling area at the John D. Bradley Centre Friday evening, or to the registration table Saturday morning, he urged participants.
RetroFest drives interest in classic cars, as thousands of people are exposed to a diverse selection of vintage cars and trucks in the downtown. And that's good for the auto club.
Langlois said HKAC, in its 46th year, now has more than 90 members, having doubled in size over the past decade.
The original HKAC members fell in love with post-Second World War vehicles of the late 1940s and 1950s. Langlois said the next generation is into the power of the late 1960s and early 1970s.
"Younger people now are into the muscle stuff. More people can afford to buy these cars," he said.
While RetroFest is a time consuming fun element for HKAC, it's not like they take the rest of the summer – cruising season – off.
"We have cruises all over the place. There's always a cruise going somewhere," Langlois said. "We're on the go all summer long. There are no free weekends."
Comments
comments