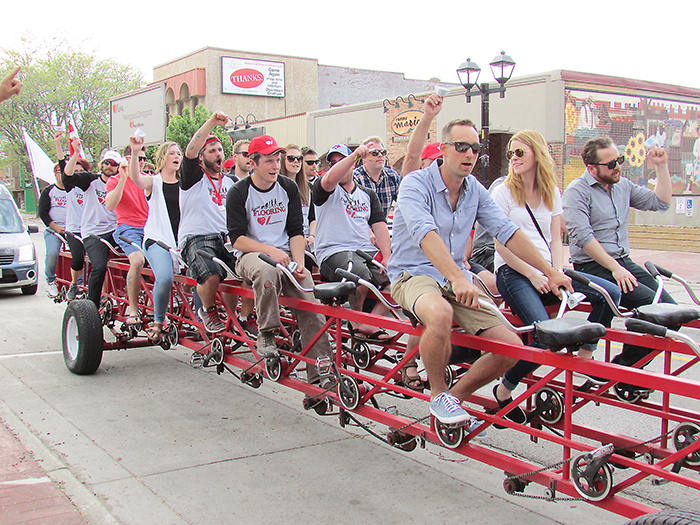 Cardiovascular disease is a leading cause of death for Canadian men and women, and in fact, every seven minutes, someone in Canada dies from heart disease or stroke.
To help combat those eye-opening statistics, the Heart and Stroke Foundation Chatham-Kent had lots of community help this past week, with teams stepping up to ride the 29-seat Big Bike and raise money to fight the disease.
Stephanie Owen, area co-ordinator for the Heart and Stroke Foundation, said in Chatham-Kent, the Big Bike was in the area for eight days of rides with eight to 10 teams riding per day. She said 65 teams in total signed up to raise funds, with a goal of $93,000.
In Chatham on May 17, each team that rode was escorted by a driver from Victory Ford who donated the services for the entire event.
"This is a very volunteer driven event," Owen said. "The people you see here are all volunteers and we can't thank them enough. Frendz allowed us to use this patio space to stage the riders and a few of our host sites were Blair's Boot Camp, Kelsey's and the Black Goose Grill in Wallaceburg."
She said the major sponsors of the Big Bike are the Dairy Farmers of Canada and Desjardins Insurance.
Owen said of particular note was the incredible showing by Wallaceburg, that included a lot of new teams like the Bkejwanong team from Walpole Island First Nation. The goal for Wallaceburg was $9,000 and they crushed it, raising $11,500.