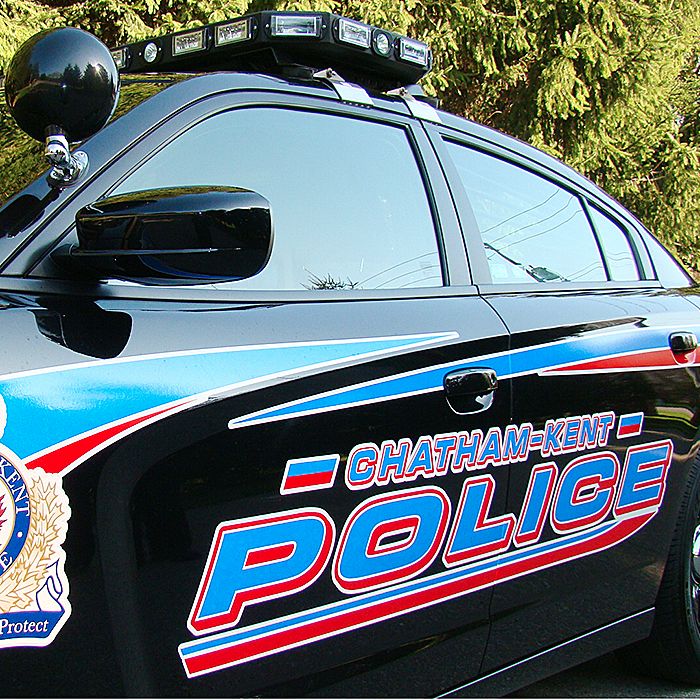 A 60-year-old Chatham man is facing failing to yield charges after a collision between a school bus and a tractor trailer tanker carrying 50,000 litres of diesel fuel just outside of Prairie Siding at around 8:45 a.m. Tuesday morning.
The truck driver's quick reaction along with rapid response from Chatham-Kent Police Service are credited with saving the lives of the bus driver and the five children on board the bus, after the bus crossed the intersection of Jacob Rd. and Grand River Line.
The truck driver who was travelling south on Jacob Rd. managed to swerve to the left to avoid the collision which in turn caused the truck to roll over onto its side.  The rollover ruptured the tanker causing approximately 35,000 liters of diesel fuel to spill into a nearby drainage ditch.  Fire and emergency crews were quick to respond and managed to contain the spill before it reached the Thames River.  The truck driver went to hospital with minor injuries and only minor injuries were reported from some of the students on the bus.  The Ministry of the Environment has been advised of the incident and are assisting in the investigation.
The Harold Marcus Hazardous Material Emergency Response Unit has been called out and remains on scene for the clean-up of the diesel fuel. Damage including the cost of spill cleanup is estimated to be over $250,000.  The intersection of Jacob Rd. and Grand River Line remains closed at this time but is expected to re-open by 6pm this evening.
Comments
comments