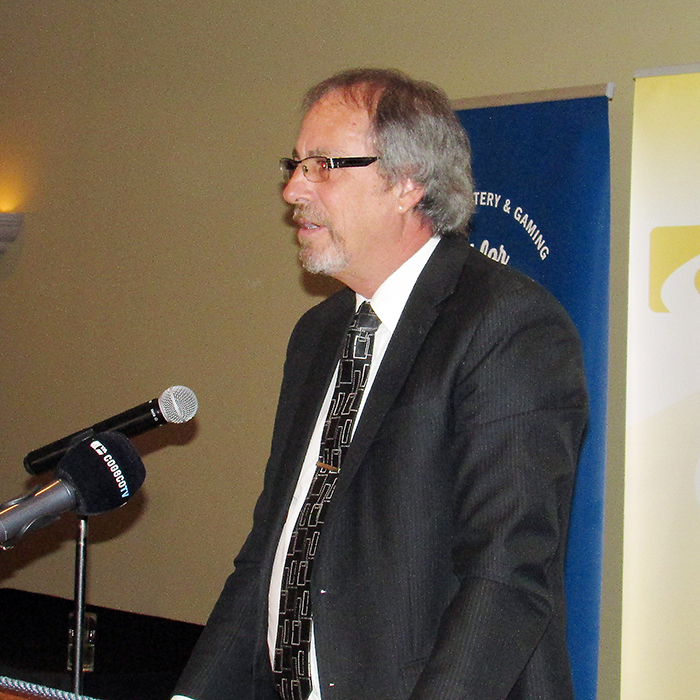 Randy Hope's vision of the future for Chatham-Kent includes a new arena complex in Chatham, as well as another interchange with Highway 401.
Hope shared his vision with members of the Chatham-Kent Chamber of Commerce at the annual mayoral address breakfast on May 3.
Hope said the arena facility should have two or three ice pads, but also be able to host other events.
"Residents come to me all the time and ask why can't we do it here," he said of other successful arena projects around the province. "Chatham has one of the oldest arenas in Canada. We need to look at the consolidation of our operating costs."
In other words, a new twin pad complex would lead to the closure of Erickson and Memorial arenas.
Hope said other communities have used provincial gas tax money to help fund such projects, but Chatham-Kent doesn't have such luxury. Instead, that money is used on infrastructure, especially in maintaining thousands of kilometres of roadway and more than 850 bridges.
"We've paid the bill for the roads. We can't do it on our own. We're due. When does the provincial government take notice and say, 'These people deserve something,'" he asked.
Hope said if the federal and provincial governments came forward and each offered to fund a third of an arena project, there's nothing to say it couldn't be fast tracked.
"We could only be a year away for the arena," he said. "This is the opportunity if the governments said there was money tomorrow; if the federal and provincial governments dump the money in front of us."
The new arena concept is one of a number of conceptual improvements Hope would like to see done. He said not everyone would be in favour of a new arena in Chatham, but the offered improvements would include something for everyone.
"It's like a basket of different fruit. You don't want the basket full of apples. But you want to have things that appeal to all the people," he said.
One of the other fruits in the basket he'd like to see is an interchange with Charing Cross Road and Hwy. 401. Hope said the province wouldn't have to shell out big dollars to build an "expensive cloverleaf" like what is being done at Hwy. 40 and Hwy. 401, but rather simple access ramping.
He said the interchange wouldn't be available to heavy trucking, but instead would be designed for passenger vehicles.
Hope said the interchange would help lead to further business development near the 401, and away from the north end of Chatham. By balancing the placement of such development, he said it would help prevent the need to add another bridge across the Thames River in or near the community.
Part of the future that is underway now is the effort to bring high-speed Internet to parts of rural Chatham-Kent. Hope said council has approved $3 million in spending to make that happen, with the help of Entegrus and Tek Savvy.
"Connectivity is so important. It helps business thrive," he said. "It also helps our young people know about the future and the opportunities that exist."
He added that seniors, who are now living in their homes longer, need to remain connected to their families as well.
Those in attendance for the mayor's address also heard how strong the local economy has become, with more than 1,200 more people working in Chatham-Kent now than there were a year ago.
Hope pointed to the Workforce Planning Board survey that indicates businesses are looking to add about 1,000 jobs in the near future as they look to expand.
In terms of industrial space, the municipality has gone from having a glut to having almost nothing. Hope said there are only three significant vacant factory floors in the municipality, one in Tilbury and two in Chatham.
"We have a new challenge: It takes more to build than it does to buy," he said.
He pointed to how hot the real estate market is here. Last year, about 30 homes in Chatham-Kent were sold each week, creating a banner year, while prices remained affordable.
"Today, we seem to be very attractive. People can cash in on their high home prices in their large urban centres, pocket the money, move here and enjoy our quality of life," he said.