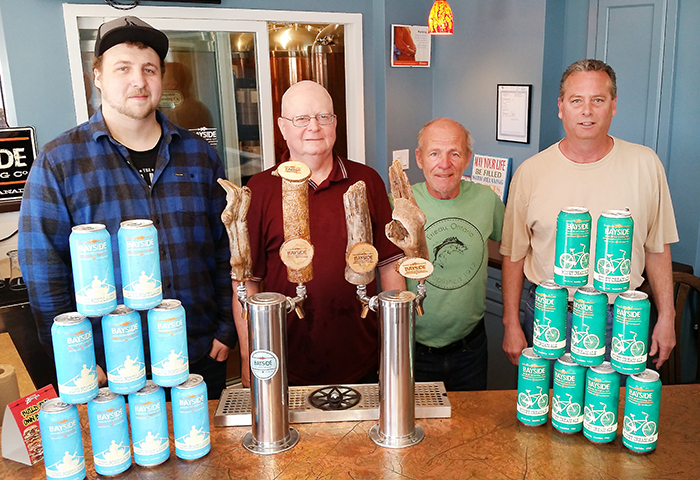 Erieau's Bayside Brewing Co. will soon be expanding – to Charing Cross.
Chatham-Kent council recently approved rezoning to allow a craft brewery and beer packaging operation at the Charing Cross Road building.
The new location is "kitty corner" to the post office in Charing Cross, on the southwest corner of Middle Line and Charing Cross Road, said Nancy Cowan, one of Bayside's owners.
The site works well with Bayside's plans to expand canning of their product, and eventually distribution, she added.
"We wanted to stay in Chatham-Kent. The location is not too far away from here," Cowan said from Bayside's home on Rondeau Bay in Erieau.
The brewery is currently having an operation in St. Thomas can about 15,000 cans a week.
She said the Charing Cross location will also offer additional storage, something in short supply at the Brewery/Brew Pub location currently.
Cowan said even with the Charing Cross site up and canning, she anticipates the St. Thomas outsourcing will continue to some extent, as Bayside hopes to grow the sales of its canned product into the Greater Toronto area.
Bayside products are sold in LCBO stores from Windsor to Ottawa and in licensee and agency stores west of Toronto, but they have yet to make it big in the largest population area in the province.
"This capacity that we are adding will help us get into the Toronto market," she said.
It's a coveted market, but Cowan said support locally and regionally has been excellent.
"It's amazing even in small towns how craft beer has grown in popularity for household events," she said. "We're always being asked to go out and promote our products at local events."
Cowan said the citizens of Chatham-Kent are strong supporters of craft brewing, and it's helped Bayside enjoy the success it has to date.
She said Bayside may move part of its brewing operation to the Charing Cross location, "maybe a tank or two," to create additional event space at the Erieau location.
Cowan said Bayside will utilize about 6,000 square feet in Charing Cross, but not all at once. In fact, they still need to acquire all the canning equipment.
She estimates it could be up to five years before they are up and running at full capacity at that location.
Comments
comments