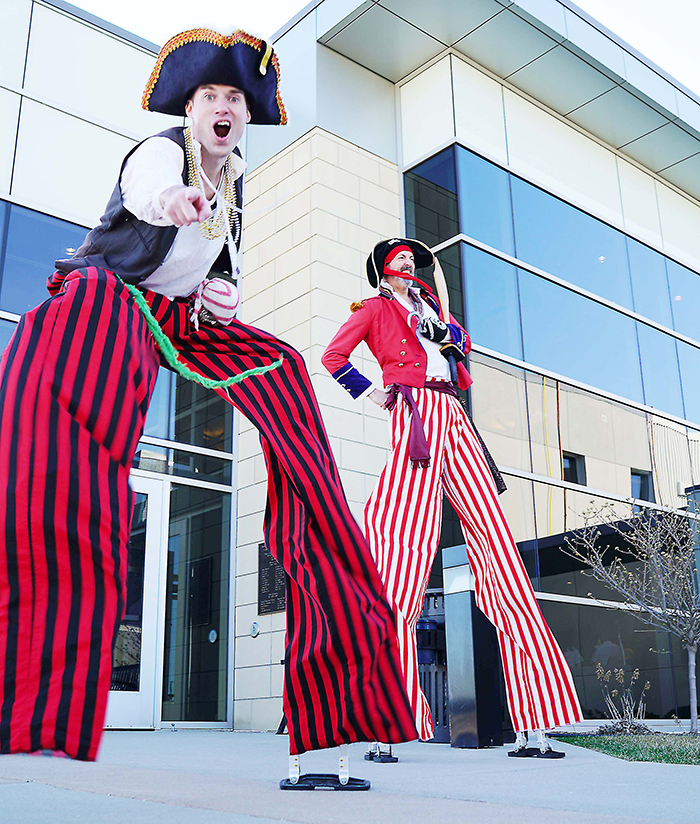 One thing you might have noticed that was conspicuously missing in the past couple of weeks was this column. Well, there are indeed times when this piece doesn't make the paper, especially when there are just too many stories that we had to get in the paper for you.
The second reason is I usually don't write when my wife pens a column. Remember the old E.F. Hutton slogan, "When E.F. Hutton talks, people listen" used in TV commercials in the 1970s? That's the same with Mary Beth. When she writes a column, it is certainly well read.
Her recent piece on what it's like being a dance mom received feedback as far away as New Orleans. That came from a dance instructor in the Big Easy.
On social media, her column got shared as far away as Australia.
Yeah, when Mary Beth writes, people read.
As a result, this column has been out of the paper for a couple of weeks now. Time to catch up.
Congrats to the organizers of the recent Festival of Giving for raising $268,000 this year. They smashed their goal of $250,000.
Funds raised go to the Children's Treatment Centre of Chatham-Kent, as well as several local food banks.
I had the good fortune of attending this year's event. As some said on social media, this may have been the best one yet, and that's saying something.
I truly do not know how organizers can keep coming up with success after success. Thumbs up to the collective creative genius of the board, and the incredible effort of a crew of volunteers, great things continue to happen at the festival.
This year's theme was Shipwrecked, and people dressed up as everything from battered cruise vacationers to pirates, to sharks, to the cast of Gilligan's Island. With more than 1,000 guests and volunteers on hand, it was quite the sight.
This is an event where you can't walk five feet without running into someone you know. And everyone has a good time.
Kudos to the Sons of Kent for showcasing four of their soon-to-be released brews. I really enjoyed two of them, a British Ale and a blonde. I mean, I REALLY enjoyed them, to the point of being a little foggy the next day at my daughter's dance competition.
The food, as usual, was excellent. And at an event where the beverages are so freely flowing, having a good meal is essential. Just don't tell my wife, who missed the event, that the roast beef was delicious. It might have been over done – medium – for her tastes, but it was so tender!
As usual, I bid on a variety of items, but got distracted in the later stages of the silent auction and wound up being outbid on everything. Congrats to the various winners at both auctions.
And congratulations to the $10,000 booty prize winner, Melissa Lachine. Imagine attending one of the best parties of the year and going home $10,000 richer.
One change this year was the late evening entertainment. Face4Radio replaced the O'Hara Brothers Band, long a mainstay entertaining the crowd and packing the dance floor at the event.
I really like both bands, having seen them both around town on numerous occasions. Face4Radio picked right up where the O'Hara Brothers left off, as they brought their unique rendition of a very wide variety of songs to the stage, which by the way was the deck of a pirate ship (although I don't know how many such ships had cages for go-go dancers).
Paying it backward
I must pass on my thanks to a gentleman in a red van who accidentally cut me off in a morning drive-thru line recently. When I had pulled in, the line was almost back to the exit lane, so I moved into the parking lot to wait for the line of cars to move up. But as I waited to let a van leave and for a student to slowly walk past toward the coffee shop, the guy in the red van pulled into my spot.
I looked over and shrugged my shoulders. He suddenly realized I wasn't just parking like an idiot. He offered to let me go past, but I wasn't in any rush, so I just waved him on.
It turned out he purchased my order that morning. All for an understandable mistake. Nice touch, but completely unnecessary.
Surprisingly dry family weekend
Did anyone else wonder what the folks predicting this past weekend's weather had in their coffee last week? Rain, lots of it, was in the forecast for Saturday and Sunday. Umm, WRONG!
And thankfully so. But I planned a trip to visit my brother and his wife on Friday because of what falsities Environment Canada told me (not that I'm complaining about the nice weekend). We had a great visit as we transferred ownership of a china hutch. I received my first sunburn while staying hydrated on a licensed patio in Kitchener-Waterloo.
Speaking of the weekend, nothing in the Corcoran backyard tells you it's spring more than the sound of our pond. OK, plugging in the outdoor beverage fridge is a close second.
This year, I admit I had been a bit delayed in getting the pond up and running. That finally happened Sunday, as I pulled the netting off and clipped back the ivy. And of course I had to pull a frog out of our skimmer (there's always at least one of these bug eaters in our skimmer when I go to turn on the pump each spring.
Another sign of spring is the singing of the toads. We have a number of backyard ponds in our neighbourhood, so when the weather turns nice each April, the toads migrate to the ponds and sing their mating songs. I think it's very relaxing to hear at night. My wife begs to differ.
So on Sunday, as I prepared the pond for another year, I had a nice pork loin cooking on the Big Green Egg. About two hours at 350 F did the trick, and it was a hit at my brother-in-law's family gathering later that afternoon. It was tasty, but so too was the turkey and all the other food they prepared for the meal.
That night, the toads serenaded us to sleep.
Comments
comments