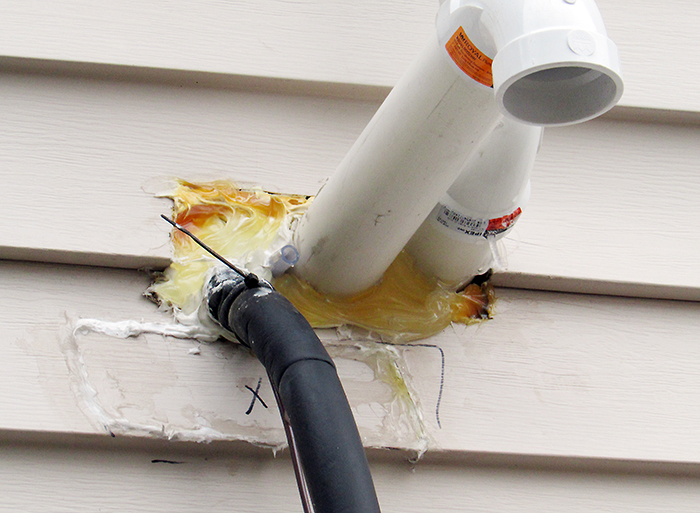 Nearly six months after an installer did a brutal job installing a furnace into an elderly couple's home on Given Road, the company answered to charges in court.
On April 11, Green Planet Home Energy pleaded guilty to two charges related to the Ontario College of Trades (OCT) section: "No person shall employ or otherwise engage an individual to perform work or engage in a practice that constitutes engaging in the practice of a compulsory trade unless the individual holds a certificate of qualification in that trade that is not suspended or unless the individual is an apprentice in that trade and is working pursuant to a registered training agreement that is not suspended."
On Oct. 16, according to OCT spokesman Tyler Charlebois, the company sent Cong Minh Bui to the Given Road home to install a furnace and air conditioner.
"Mr. Bui was directed there by the defendant business to install an air conditioning unit and a furnace, and to perform all the electrical work required for that installation," he said. "Mr. Bui installed the cooling-heating combination system and installed, altered and drew electrical conductors through conductor enclosures for that system, as engaged by Green Planet. Mr. Bui received payment for this work from Green Planet."
One problem. Bui does not hold a valid certificate of qualification for either electrician or refrigeration and air conditioning system mechanic, according to the OCT.
"Accordingly, by engaging Mr. Bui to perform the work, the defendant committed the offence of engaging an unauthorized individual to perform the work of two compulsory trades, contrary to s. 4 of the Ontario College of Trades and Apprenticeship Act," Charlebois said.
When Bui installed the furnace and air conditioner, homeowner Larry Gadal wasn't aware of this. But upon seeing the damage done to the exterior of his home, combined with the fact the furnace couldn't adequately heat the house, he received a rude awakening.
Gadal told The Voice previously that Green Planet had been very aggressive in its sales pitch for the heating and air conditioning system, offering a long-term lease of the units, with no cost to install, with monthly payments of $158 a month for 15 years.
The installation went badly.
"They did a horrible job. They drilled five holes through the wall before they got it where they wanted it," Gadal said. "If they didn't hit the right spot, they'd just move over.
"When they left, they didn't even fill the holes. There was about a two-inch gap beside one of the pipes," he said. "They came back with a caulking gun."
When the cold weather hit, he learned the furnace couldn't even heat his home to 20C. As a result, he called the company and told them to come and get their furnace. He also called local heating and cooling company Absolute Comfort, who ripped out the Green Planet system and installed a new furnace, for a greatly reduced cost.
Dave Cabral of Absolute Comfort in Chatham said an inspection of the Green Planet installation left him stunned.
"I've never seen anything like it. This is the worst I've ever seen," he said, referring to the workmanship and installation. "Nothing was installed to the manufacturer's specifications. And the home was damaged in a couple of spots."
Cabral and Absolute Comfort office manager Cindy Brooke contacted the Ontario College of Trades on behalf of Gadal to complain about the workmanship.
By late January, Green Planet and Bui faced charges.
While Green Planet has pleaded guilty and received two $300 fines, Bui had his court date pushed back to May 16, Brooke, who attended the April 11 hearing, said.
Charlebois said the college has the interest of the consumers at heart.
"The Ontario College of Trades takes its mandate to protect the public interest very seriously," he said. "To ensure the public is protected and trades professionals are held to a high professional standard, College enforcement officers confirm those completing the work of compulsory trades have the proper credentials to do so."
Last year alone, college personnel received more than 1.3 million visits to its Public Register—an online tool that helps consumers verify an individual's qualifications.
The College received approximately 1,662 calls from the public about concerns of potentially uncertified workers.
A total of 4,243 individuals were found to be unauthorized workers, and 36 Part III prosecutions (the same category under which Green Planet pleaded guilty) were made. All convictions are posted on the College's website under the Public Advisories section.
As well, 409 Provincial Offences Notices (tickets) were issued and there were 68 prosecutions for violators of Ontario College of Traces Apprenticeship Act.
Charlebois urges anyone who knows of someone performing a trade without a licence to contact the OCT.
"If you are aware of someone illegally practicing a compulsory trade, you are encouraged to contact the College's complaints line at 1-855-299-0028, ext. 3."
Comments
comments