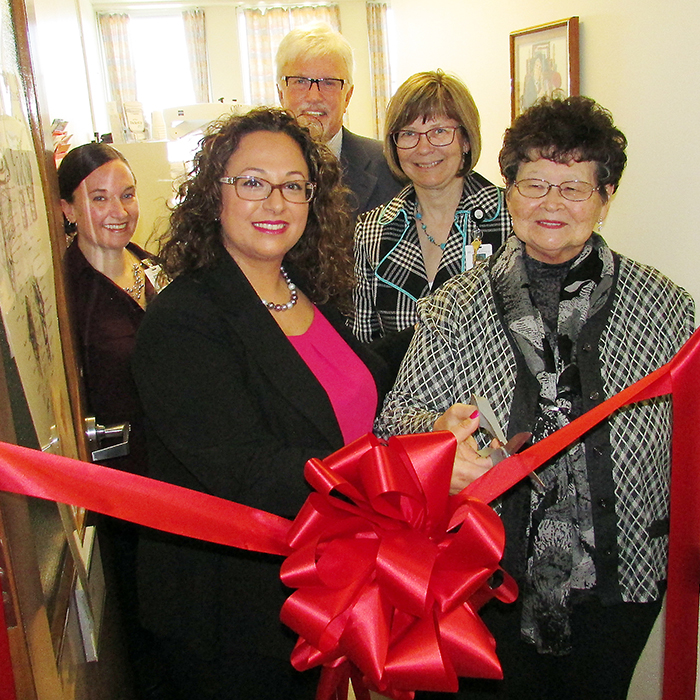 Swallowing and speaking are actions most of us take for granted. With new equipment at the Chatham-Kent Health Alliance, more people will be able to do so.
The CKHA on Friday unveiled its enhanced dysphagia and swallowing assessment services at the Chatham campus of the alliance. Administration pointed out it's the people, not the equipment that are integral to the success of the services.
Lori Marshall, CEO for the CKHA, said the suite became reality thanks to "incredible teamwork. That's what drives us."
Dr. Nadine Yammine, a head-and-neck surgeon, as well as a laryngologist, said the services will help improve quality of life for people.
"Being able to eat safely, without fear of choking is vital," Yammine said. "Imagine choking every time you ate. That's real for some people."
With FEES – flexible endoscopic evaluation of swallowing – where Yammine uses a scope that goes in through the nose and down the throat, she can examine the throat and voice box as a person eats or drinks.
"We can pinpoint the problem with swallowing," she said. "We are reliably able to tell a patient if they are aspirating or are in danger of aspirating."
When someone aspirates – has food or liquids head down the wind pipe – that can lead to aspirating pneumonia, Yammine said.
"Swallowing is a complex process involving sensory and motor nerves, various areas of the brain and more than 80 nerves and muscles. Any dysfunction in the system from chewing to sending the bolus of solid or liquid past the larynx into the esophagus can result in dysphagia," Yammine said.
Dysphagia – difficulty swallowing – is caused by any condition that affects the swallowing process; this includes neurological disorders such as Parkinson's, ALS and dementia, stroke, cancer or traumatic brain injury.
The scope is only about four millimetres wide, Yammine said.
"It's not painful, but it's not fun," she said of the procedure. "It's the size of a spaghetti noodle and it's in your nose."
Yammine said the equipment is highly advanced, but isn't what makes the clinic so efficient.
"Our speech therapists, our nurses, our dieticians, the hospitalist, and family physicians do it. It's a high-intensity of continuous interdisciplinary care," she said.
By using FEES, Yammine said she's able to perform procedures at the time of examination that can alleviate problems. One recipient, Eunice DeWal-Segee, whose vocal chords weren't closing properly, resulting in her having only a whisper for a voice and leading to aspiration concerns, was on hand for the unveiling. She spoke with a strong voice, and hugged hospital staff and reporters alike in appreciation of what Yammine and the support team did for her.
Yammine said the procedures done in the suite take about 90 minutes, and increase health care efficiency, while lowering expenses.
"There's no OR (operating room) time and no general anesthetic," she said. "We're using health-care dollars in a more efficient way."
Marshall said it's a win-win combination.
"We're improving patient care and at less cost."
As well, the unit is portable, so if a patient is in the emergency or intensive care areas, the machine and staff can come to them.
Yammine recalled working with a woman suffering from lung cancer. The doctor said the tumour was pressing on the vocal chords and for the previous six months, she'd been unable to speak. After only local anesthetic and about 90 minutes in the chair, Yammine said the woman was one again able to speak.
"Her husband hadn't heard her voice for six months. She called his name and he started to cry," she said. "I couldn't help her cancer, but I was able to give her voice back. We can give better quality of life. This is extremely satisfying as a head and neck surgeon."
Comments
comments