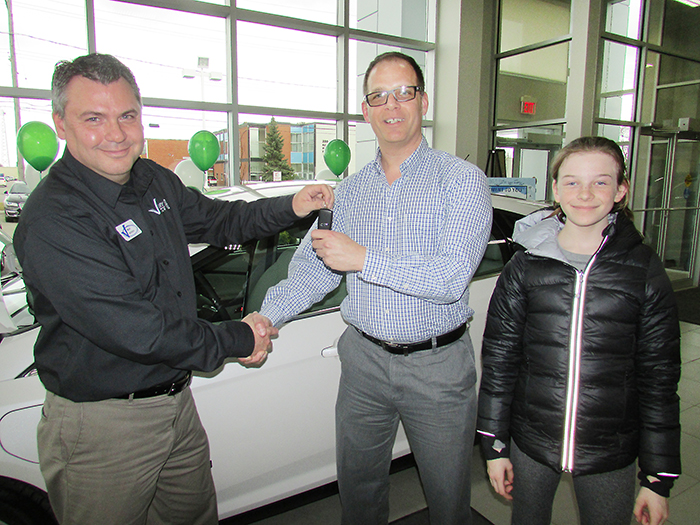 When he started researching electric vehicles months ago, Dustin O'Neil wanted something that would be good for the environment, would meet the needs of his daily commute and would inspire his students to take an interest in protecting our resources.
With the 2017 Ford Focus electric, a full plug-in, he feels he made the right choice and was happy Victory Ford Lincoln in Chatham could help him out.
>
O'Neil came to Chatham last week to pick up his new car with family and friend, Brian Masse, MP for Windsor West and someone who has experience with the auto industry.
"I always had an interest in the environment and I saw a documentary, "Who Killed the Electric Car?" that my friend Brian (Masse) showed me," O'Neil said. "So when the time came I needed to change vehicles I committed to an electric car."
With the improved range of the 2017 Focus to 185 kilometres, O'Neil said it fit into his daily commute to work as a school principal, plus the ability to charge at home, and having an app that shows where all charging stations are meant an electric car was a good fit for him.
O'Neil said he also was able to get good information from Sean Hart, founder and chair of the Windsor-Essex Electric Vehicle Association (WEEVA). The group shares information about buying and owning electric vehicles.
Looking for a vehicle that fit his needs, O'Neil said he turned to Ford, but had trouble finding a dealership from Windsor all the way to Ottawa that was certified and could get him what he wanted in a timely manner. That's where Victory Ford comes in.
"I called these guys and they were very responsive and were able to get me a car very quickly; a week compared to months," O'Neil explained. "The current rebates also made it very cost comparable to a gas-powered car. The incentives really level the playing field."
In the works from the Ministry of Transportation, O'Neil said, is a new incentive for electric car owners to charge overnight for free for four years, which will also be good news for people thinking about going electric.
Adam Lally, general manager at Victory Ford, said they were very happy to complete the certification to sell and service electric vehicles and help O'Neil find the perfect vehicle for his needs.
"Ford has committed to electric and hybrid vehicles. To be certified, a certain percentage of the staff had to be trained, but everyone here is really excited about electric vehicles and now our entire staff is now trained," Lally said.
With the sale of the first EV at Victory Ford, Lally said they have had four more orders in the last two weeks and the challenge now will be to keep up with consumer interest.
Mark Jackson, the sales rep who helped O'Neil with his purchase, said Victory Ford is forging new roads into the electric vehicle market.
"As the infrastructure becomes more available, trail blazers like Dustin and WEEVA will educate consumers and the market is only going to get larger and larger," Jackson said.