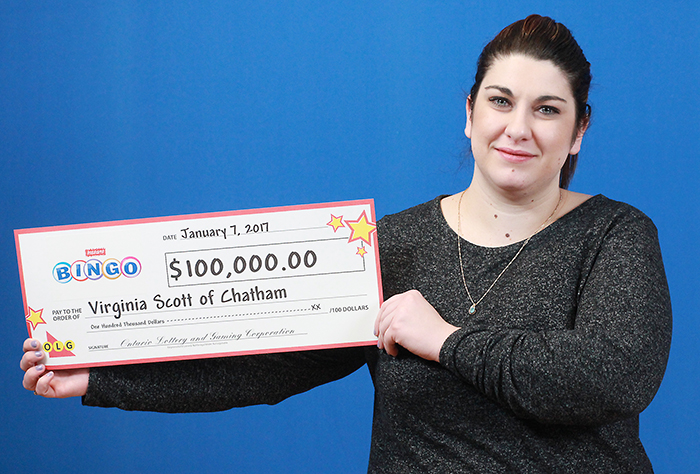 A Chatham woman padded her bank account recently after winning $100,000 on a scratch ticket.
Virginia Scott took the top prize in the Instant Bingo Builder game.
"I was at the store to get some milk when I decided to pick up some instant scratch tickets as well," Scott said while at the OLG Prize Centre in Toronto where she got her big cheque. "My winning ticket was the last one I scratched – an Instant Bingo Doubler."
Scott scratched her ticket while dinner was cooking.
"I was shocked and in disbelief. I said to myself, 'This cannot be real!'"
Feeling elated, Scott headed back to the store.
"I asked the retailer to validate my ticket. Even after I saw the words, 'Big Winner,' I couldn't believe it. The owner asked, 'You won?' and I replied, 'Apparently!'"
The 24 year old stopped by her mom's place to share the news.
"That's when I broke down. I was crying and laughing at the same time. I was so happy and excited about my win. After I calmed down, I told a few friends what happened. They thought I was joking."
Plans are underway for Scott's big win.
"After paying off my student loan I would like to put a down payment on a house. I would like to spoil my mom and dad with something special but I'm not sure what yet. Then I will enjoy what is left over – maybe a vacation at a hot destination. Winning the lottery feels amazing. It means I have a fresh start and a clean slate. It has given me freedom," concluded Virginia.