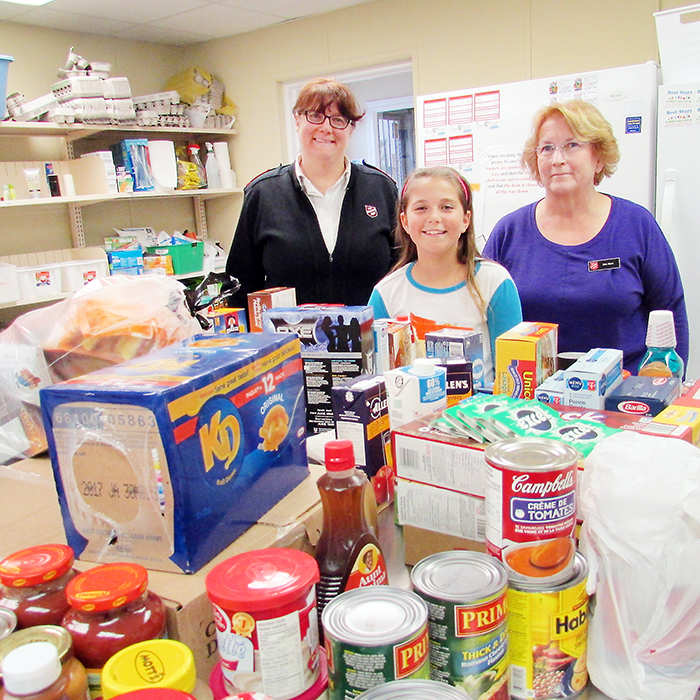 At a glance, Alyah and Noah Detailleur are typical adolescents, but the staff at the local Salvation Army will tell you otherwise.
Alyah, 10, and Noah, 12, dream big when it comes to helping people. For the third straight year, the kids donated to help those in need.
This time around, it was a pickup truck load of food and toiletries, which they handed over to the Salvation Army Friday.
"We filled our whole dining room," Alyah said.
Mummy – Melva Detailleur – posted on Facebook what the kids had planned, and it spread like wildfire.
"All kinds of people on Facebook wanted in, and their friends wanted in," Alyah said.
People weren't donating a canned good here, or a box of pasta there, but rather bags of goods. The support came from such a wide range of people that the family had to plan for two days of pickups around the community.
"They were giving like three bags," Noah said. "Or they would just randomly show up on our doorstep to donate."
"It wasn't just people we knew," Melva added.
Their mom said they are always thinking about helping others.
"All year, they give to the Salvation Army," Melva said. "When we get groceries, they pick up a few things each time."
Alyah said the donation that she liked the most was that one woman brought several bags of toiletries. Capt. Stephanie Watkinson of the Salvation Army agreed.
"When I see things like toiletry items, it gives me great pleasure," she said. "Some people come in and ask for a bar of soap and we may not have one."
She added that the efforts of Noah and Alyah energize everyone at the food bank.
"This is amazing. It makes you feel wonderful," she said. "It shows every little bit helps."
The giving spirit of Noah and Alyah started three years ago.
"We were in Toronto. We were getting ready to leave and I saw a homeless person with a sign that said, 'Please give me money. I'm hungry,'" Alyah said.
"She gave him some food, and coins out of her own purse," Melva said.
That's how Alyah works. She said she recently saw someone down on his luck on Queen Street in Chatham, so she went over and gave him some candy and water.
The previous two years, the kids worked to have blankets, hats and mitts donated to help keep homeless people warm. This time around, collecting food was only part of their effort, as they also set aside a parcel of the family's backyard garden and planted green beans, peppers, tomatoes, and strawberries, specifically for the food bank.
Comments
comments