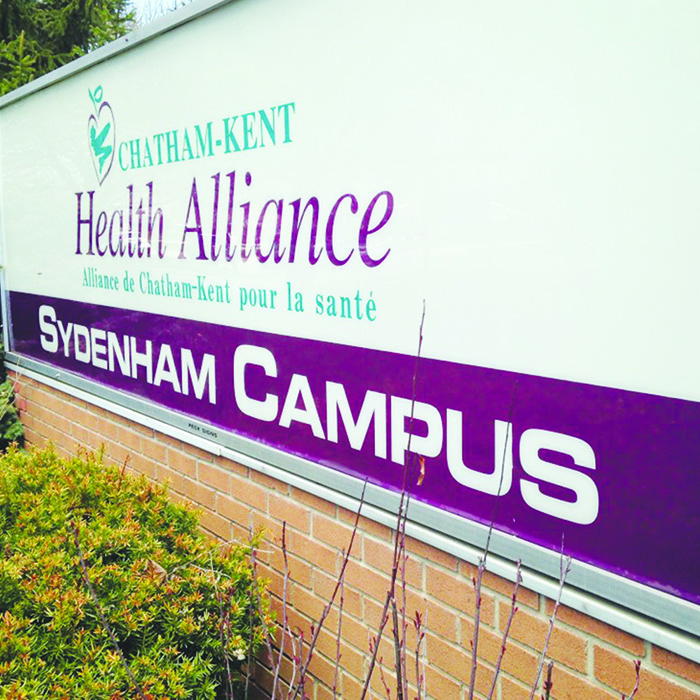 The Chatham-Kent Health Alliance is continuing to realign its pieces, with more personnel changes and investment announced recently.
According to CKHA interim President and CEO Ken Deane, Fannie Vavoulis has been appointed as the new Director of Communications. Vavoulis takes on the role after close to six years position with the Alliance as physician recruiter and more recently as director of development for the Foundation of the CKHA. Well-known in the community, Vavoulis is also past-president of the Rotary Club of Chatham.
Former communications director Zoja Holman will be using her organizational skills as the point person in her new role as Director of Corporate Transformation.
In an update to staff, physicians and volunteers at CKHA, Vavoulis outlined recent progress in her Engage newsletter, a copy of which was obtained by the Chatham Voice. The newsletter addresses points of concern from a provincial investigator's report.
One item of note for residents in the Wallaceburg area is action on the noted deterioration of the Sydenham Campus hospital building itself, including almost $750,000 worth of investment "in an effort to bring back up to date some of the underlying facilities and systems at the hospital," Vavoulis said in the newsletter. The projects include a new heat exchange unit for hot water, security systems, and water testing and filters.
The newsletter added "these sorts of foundational investments are essential in order to keep the facility operating and must be made before program investments can be contemplated."
In an interview with The Voice, Deane confirmed the need for investment.
"There are 18,000 patients that come through that site," Deane said. "Looking at the overall system, we need to optimize our assets and provide the best quality health care to the community of Chatham-Kent."
Another point addressed from the investigator's report is the re-organization of administration and medical leadership. CKHA intends to look at its structure compared to other hospitals of similar size and scope and work from there. Efforts are already underway to look at a new structure that "solidifies the role of physician leaders working with administrative leaders in providing oversight to clinical programs and services."
Deane said a foundational piece of a high-performing hospital is the relationship between administration and medical staff, and working in partnership to deliver the highest quality programs and services to the public.
With a new structure, positions have been posted and interviews are being arranged, with the goal of announcing a new chief of staff and new chiefs/medical directors in the coming weeks, the newsletter states.
An observation by the investigator regarding an organization culture "frequently described by hospital and medical staff to be one of fear, intimidation, distrust and an unsafe environment in which to voice their opinions without retaliation" has led to three initiatives by the CKHA.
The first step is a survey for staff and physicians launched Nov. 24 to gather input to share with all departments. The second is the setup of a Workplace Violence Committee made up of staff, patient relations advisors and physicians to ensure a safe and secure workplace. And third is the launch of a Whistle Blower Hotline in early 2017 that will be managed and operated by a third-party vendor to ensure issues can be reported confidentially.
"A hospital is a community of people who work together and we need to foster and nurture a healthy workforce, and you can't fix what you don't know," Deane said. "People need to feel their voice is valued and that they can express their viewpoint and feel it will be recognized and taken into account. Our philosophy is there will never be repercussions. (Supervisor of Hospitals) Rob (Devitt) and I feel people need to know they will be treated anonymously by a third party."
To ensure input from all over the municipality the hospital serves, Deane said they developed terms of reference for a Rural Advisory Committee.
"Chatham-Kent has a population of 110,000 and its important to make sure we have input from all of the region we serve," Deane noted.
The interview process for a new CEO has also began, with a patient representative sitting in on the interviews. Deane is very positive about the process.
A video developed by Rich Barry and the communications department has received positive feedback from the Ontario Hospital Association for its creative approach to recruiting the next CEO. The video features staff from the hospital describing what they want to see in a new CEO and a four-year-old patient with new insulin pump asking, "Do you have what it takes to be a CEO?"
"With the cailbre of individuals who have applied, I am very optimistic," Deane said.
Deane said there is no timeline for the announcement of the new CEO.