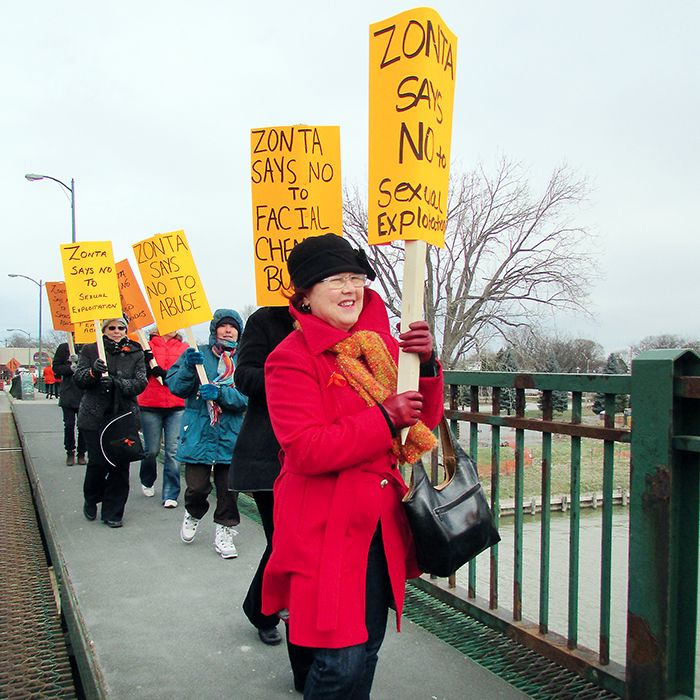 For the fourth year, the Zonta Club of Chatham-Kent will lead a rally on the bridge.
On Friday, the International Day for the Elimination of Violence towards Women, the club will gather folks on the Third Street Bridge and begin the 16 Days of Activism, a United Nations awareness campaign.
Wanda Bell, co-organizer of the rally, said violence towards women continues to occur at a consistent rate in Canada and around the world.
"Only by recognizing the problem and speaking out against it will these statistics change," the Zonta Club member said.
Zonta Says No is an international advocacy project that takes place in many countries. It is a visible demonstration of support for the millions worldwide who suffer the effects of sexual assault, spousal abuse, human trafficking, rape, female circumcision and other violent crimes.
This is a global problem, but it is a local one too. Every six days, a woman is killed by her intimate partner in Canada, the club said.
The local demonstration will last a half hour, so folks can participate over their lunch hour, Bell said.
Friday is also a PD day at the schools, and the club hopes parents will bring their children along to be part of the event.
Participants are asked to wear orange, the official colour of the international campaign. Signs will be provided by the club.
"The Zonta Says No campaign empowers women to stand up against violence. It is especially appreciated when men come out to support us as well," Bell said.
The gathering takes place between 12:15 p.m. and 12:45 p.m.
The Zonta Club of Chatham-Kent is a member of Zonta International, which is a voting member of the United Nations. The local club has promoted equality for more than 65 years.
For more information, call 226-627-0248 or visit the website at www.zontachathamkent.org.