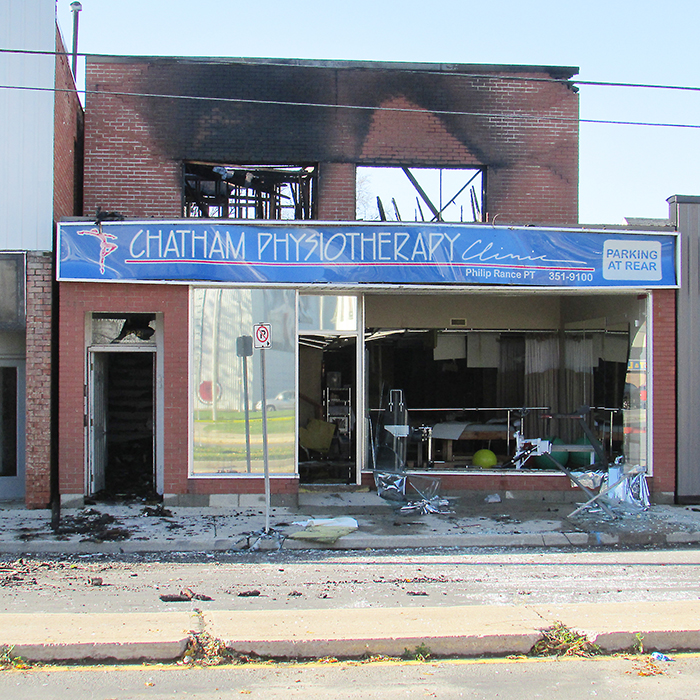 Less than 72 hours after an explosion and fire struck the Chatham Physiotherapy building on Queen Street, the operation found a temporary new home.
The explosion struck about 9 p.m. Friday night, apparently originating in the upstairs apartment. It blew out the main window of the physiotherapy centre and started a fire.
Investigators of the Office of the Fire Marshal continue to investigate, and the southbound lane of Queen Street remained closed today at the scene.
But the physiotherapists have landed a new place to work – 857 Grand Ave. W., Suite 109.
John Spirou, one of the physiotherapists at Chatham Physiotherapy, said they will open for business next Monday (Nov. 21).
"Our home care is continuing, but most of our work is out-patient clinic work. That has unfortunately suffered this week," Spirou told The Voice.
Chatham Physiotherapy is one of the region's few sites that can take OHIP-covered visits.
"We see a lot of patients on disability," Spirou said.
The temporary home is inside a medical building, which he said is an excellent location.
"It's a great medical building. We have X-Ray on site, orthopedic surgeons on site – just a great landing spot," he said.
Spirou and the rest of the staff at the business are thankful of all the community support he said they've received since the blast.
He added the cause of the explosion and fire is still unknown.
"The only thing the fire marshal mentioned was that there was an explosion and there was a fire," Spirou said. "It seems like it did start upstairs."
He added there was a tenant upstairs at the time of the explosion. Her injuries resulted in her having to be sent to a London hospital for treatment.
"We offer our thoughts and prayers to her and her family," Spirou said.
As for the temporary location, he said the building has paid parking, but Chatham Physiotherapy has worked out a free-parking validation system for their patients, so there will be no cost for them.
Staff can't wait to get started again.
"We simply want to let people know we're here, we're strong and set to start on Monday," Spirou said.