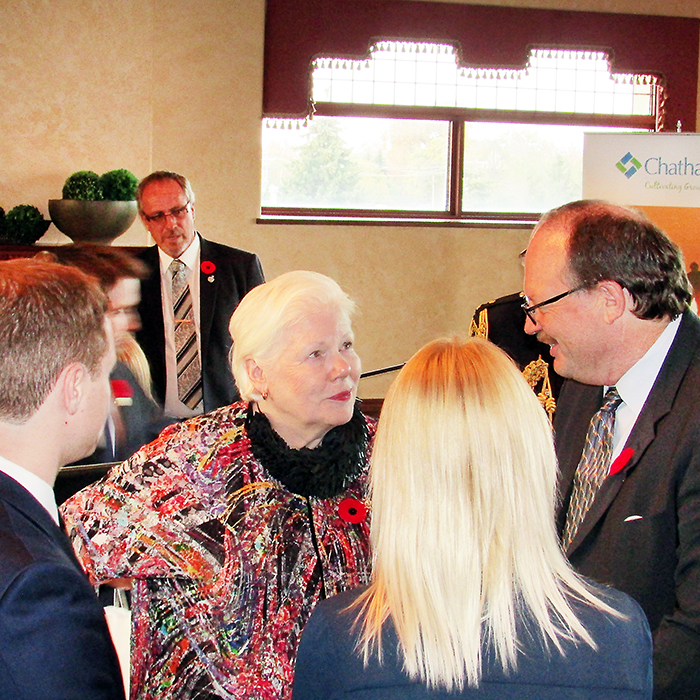 Ontario's lieutenant governor toured parts of Chatham-Kent Nov. 2, and admitted she was impressed.
"Seeing restored facilities like this," Elizabeth Dowdeswell said of the Chatham Capitol Theatre, "and seeing farms or greenhouses that are state of the art – these are absolutely wonderful and speak well of your community."
She toured Truly Green on Bloomfield Road during the day, along with company officials, Mayor Randy Hope and municipal staff.
The Queen's representative to Ontario later spoke at a gathering at the Capitol Theatre.
Dowdeswell also took part in a discussion with the Chatham-Kent Community Leaders' Cabinet.
"Today was a very interesting program. It leaves me with a better understanding of this community," she said.
Ontario, while not the economic engine of the country like it once was, remains a crucial part of the nation, and the globe as a whole, Dowdeswell said.
"We have much to offer the rest of the world," she said. "But it is important we don't become complacent. How do we create a sustainable community? We have to have resiliency in our communities to keep young people here."
There is a great deal of discussion to be had. In fact, the lieutenant governor is looking for just that.
"I hope in 2017 there will be lots of thoughtful dialogue," Dowdeswell said, adding that in part of celebrations of Canada's 150th birthday as a nation, there will be the Lieutenant Governor's Visionaries Prize up for grabs.
She said citizens will have the chance to identify and address the challenges that Ontario will face over the next half century.
Entrants can submit a written effort, up to 800 words in length, or a video, a maximum of two minutes in length.
Categories include, reconciliation, environmental stewardship, science and technology, social cohesion, inclusive prosperity, and governance.
Winners in the various categories will take their case before a panel of judges.
"This will take place in communities around Ontario. They'll pitch their ideas," Dowdeswell said of the winners.
For more information, visit www.thewalrus.ca/LGvisionariesprize.
Comments
comments