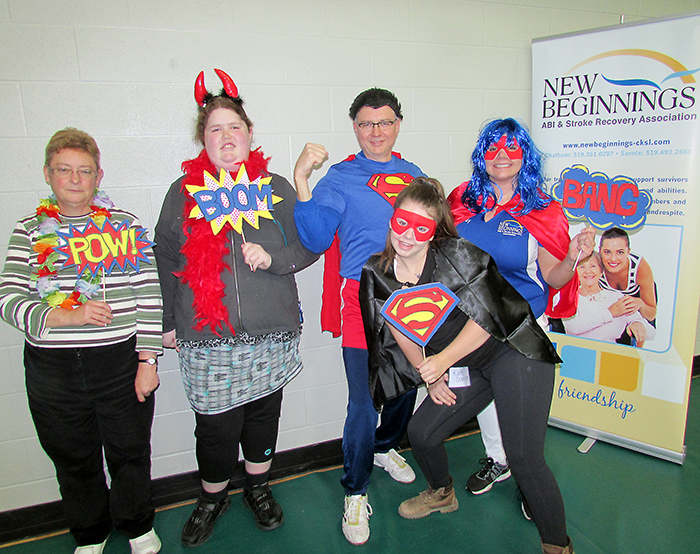 Superman and friends helped bring together stroke and brain injury survivors together to celebrate and learn new information at the second annual Stroke Survivor Congress recently at the St. Clair College Healthplex in Chatham
Building on the legacy of the Stroke Garden Party, Chatham-Kent Health Alliance (CKHA) refreshed its approach to celebrating life after stroke. By inviting other organizations to become partners, this first of its kind congress for stroke survivors was realized. The event, hosted by CKHA in partnership with New Beginnings, Acquired Brain Injury (ABI) and Stroke Recovery Association, recognizes that surviving a stroke is a significant life-changing event. It requires "super powers" that provide enormous hope, bravery, strength, determination, help from others and celebration.
"New Beginnings is very pleased to be teaming up with Chatham-Kent Health Alliance to present a quality program in the second Stroke Survivor Congress," said Bob Rawlinson, Executive Director, New Beginnings, ABI and Stroke Recovery Association. "There are always new and developing strategies to help people recover from stroke and our speakers for the day are pleased to present them in Chatham-Kent. Stroke prevention is our future."
The superheroes theme was shaped by stroke survivors, their families and caregivers for stroke survivors, families and caregivers to help them find their way on their post-stroke road of recovery. The focus on "Creating a Super You" was highlighted as participants heard inspiring stories of how exercise, fitness, nutrition, information and socialization improve survival rates. People at the Congress described the experience as informative, intriguing and uplifting.
Elaine Konecny, a brain injury survivor said she enjoyed the two speakers who were stroke survivors.
"They are survivors too and they really inspired us," she said. "I also have some ideas for change for next time."
Shelby Emery, also a brain injury and stroke survivor, said she was glad she attended the event.
"I'm a member of the New Beginnings clubhouse and I really like the activities they have us do. They are very helpful and it's nice to have a place to go instead of sitting at home," Emery said.
The clubhouse, or Superman's Crystal Cave as it was called at the Congress, is a drop-in program offered by New Beginnings for survivors to go to that includes social and recreational activities such as group exercise, dexterity and hand-eye co-ordination activities, karaoke and many other activities.
"People get out of the hospital and get home and are house-bound. Our drop-in centre gives survivors who are 16-plus social and recreational activities to do," Rawlinson said. "We also have care-giver groups who can get together and discuss the joys and difficulties of caring for a survivor."
"We are the best kept secret in Chatham-Kent. Not enough people hear about us so today was really important to get the word out there."
The day also featured entertaining commentary by Guest Emcee, Peter "Superman" Martin, from Cogeco, and Denise "Lois Lane" Carpenter, Senior Co-ordinator, Community Services, March of Dimes Canada, a video on recognizing the signs and symptoms of stroke "F.A.S.T." (Face, Arm, Speech, Time), the community resources website healthline.ca, door prizes and vendor displays.
Local stroke survivor services include: the District Stroke Centre, daily Secondary Prevention Clinics, acute stroke management including thrombolysis "clot-busting" treatment, an Integrated Stroke Unit, Inpatient Rehabilitation, Outpatient Transitional Stroke Program, Friends of Stroke Recovery, and Stroke Social Programs. More evidence for new protocols are on the horizon for rapid access to tertiary services such as endovascular treatment; and longer term cardiac monitoring for diagnosis of atrial fibrillation or atrial flutter.