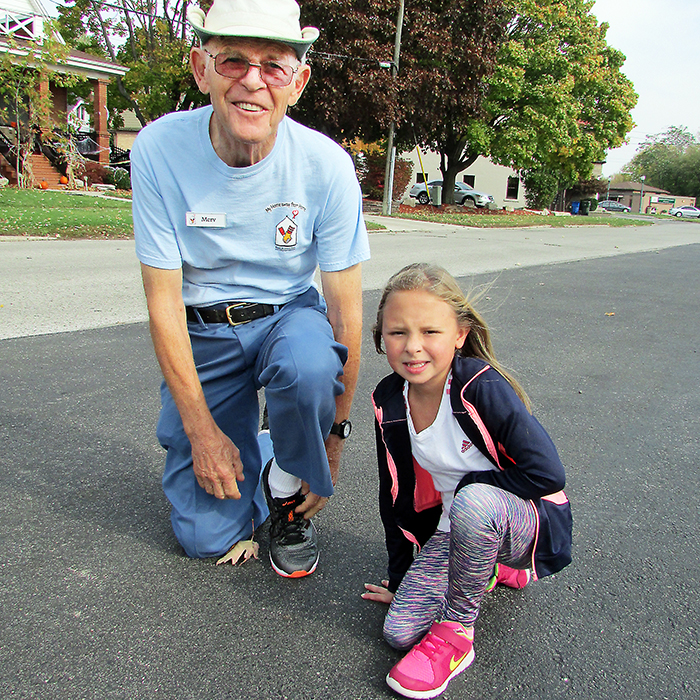 For most people, a birthday celebration consists of little more than gathering with family, opening presents and enjoying some cake.
Merv Jaques isn't most people.
The Bothwell man turns 80 on Nov. 18. To celebrate, he's planning on walking a marathon the day after his birthday, and hopes to raise upwards of $5,000 for Ronald McDonald House.
No stranger to putting one foot in front of the other, Jaques said he began walking "vigorously" after being diagnosed with diabetes back in 1982.
"I was told to walk vigorously 20 minutes a day. But I got stubborn. I thought, 'If I want to walk, I'll walk. You can't tell me what to do,'" he said, adding a friend set him straight. "Then a guy told me, 'This is your life.' He hit it dead on. I've been walking ever since."
Jaques eventually combined his need to walk with putting that effort towards worthy causes. He said he opted to do a couple of cancer walks for Princess Margaret Hospital in Toronto, walking 60K over a two-day period.
That was six years ago.
But he wanted to step it up a bit more.
"Later on, I got talking to people who were running marathons. I thought, 'Why don't I walk a marathon,'" Jaques said. "I knew a few people who had cancer, so I figured why not do a walk in honour of them?"
And in 2011, he did just that, walking from the Tim Hortons in Dresden to the Timmy's in Wallaceburg, and back again.
That 42.2 kilometre trek was in the middle of a hot summer.
"It was really hot. I got close to being dehydrated," he said.
Jaques learned from the heat, so he's walking this time in late fall – and indoors at the St. Clair College Health Plex.
"I'm using the health complex in Chatham to walk indoors. I love the track there. It's flat, rubberized and easy walking."
Jaques said he discovered the track last year when his daughter and granddaughter were competing in a skating competition at Thames Campus arena. The medal ceremonies took place inside the Health Plex, and he opted to look around.
"I went up and had a look at that track. That settled it right there," he said. "I had planned on using the track at The Pines."
Jaques said he chose to support Ronald McDonald House in London because that charity works to keep its administrative costs way down.
"They don't have nearly as much in administration fees. McDonald's will not go over 20%. That did it for me," he said.
Jaques said preparation and fundraising is going well, and he anticipates a great day Nov. 19. He added the folks from Ronald McDonald House are co-operating nicely.
"I could not ask for it to go any better," he said, adding he welcomes additional support, even the day of the event.
"I'm hoping to start at 7 a.m. and get a lot of miles in by noon. After dinner, if anyone wants to walk with me, we'll get some funds for Ronald McDonald House," he said.
Pledges can be made directly to Jaques, or at the Old Autos Newspaper office at 348 Main St. in Bothwell, or even online at https://www.rmhccanada.ca/fundraiser/177 or by mail: Ronald McDonald House Charities SW Ontario, 741 Baseline Rd, London ON N6C 2R6.
The money raised from this event will directly help those families who are in need of Ronald McDonald House Charities Southwestern Ontario's services.
Since 1985, Ronald McDonald House Charities Southwestern Ontario has been giving hundreds of families a home to stay in while their seriously ill child receives hospital care nearby. With no funding provided by any agency or government body, the operation relies solely on donations and contributions so that they can continue to provide a home away from home for families in need.