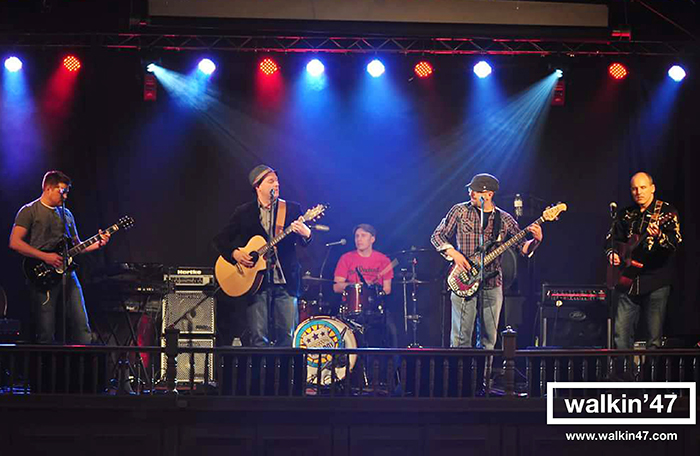 Renowned Canadian singer Gord Downie's support in Chatham-Kent continues to grow.
After two groups organized fundraising events around the final concert of Downie's band – The Tragically Hip, local musicians are now teaming up to help raise more money for the front man's charity.
Walkin' 47, with special guests the CK Mountaineers, are hosting a show Nov. 12 at The Kent 1874. Tickets are just $10 and all proceeds are going to the Gord Downie Fund for Brain Cancer Research at Sunnybrook Hospital.
Walkin' 47 bassist Jason Denys said they just want to help a man and a band they've all admired for years.
"We've seen them on tour and saw the final show," he said of the Aug. 10 concert in Kingston that the CBC broadcast live. "It was emotional. We wanted to raise money to help out any way we can."
Denys said the band is busy learning a bunch of new Tragically Hip songs.
"All the guys in the band have played for years and we've done a lot of Tragically Hip songs," he said. "We've been hard at work learning another 35 Tragically Hip songs."
For Walkin' 47 members, Denys said the Hip has long been a part of their lives.
"I remember seeing them in high school. I went to Detroit to see them during the Fully Completely tour. Ever since then, I've been a really big fan," he said. "They are probably what motivated me to pick up a guitar in the first place back in high school.
"They have been the sound track to our lives."
Denys said he and his band mates are in awe of what Downie is doing. The bassist – a family doctor – said he's seen what brain cancer can do.
"I've seen patients unfortunately go through brain cancer. The impact it has on themselves and the family is enormous," he said. "I admire (Downie) immensely to have the courage to go on the road in that condition. You realize how precious life is and we want to help out for the research."
As for the venue – The Kent 1874 – Denys is looking forward to performing there.
"I've heard so many great things about it. We thought of it as a great venue acoustically and environmentally, " he said. "It's a very historic and very cool venue."
Tickets to the Nov. 12 show are available through The Kent's website, http://www.thekent1874.com/ or at Tony's One Stop Music Shop. Doors open at 7 p.m. and the music starts at 8 p.m.
Comments
comments