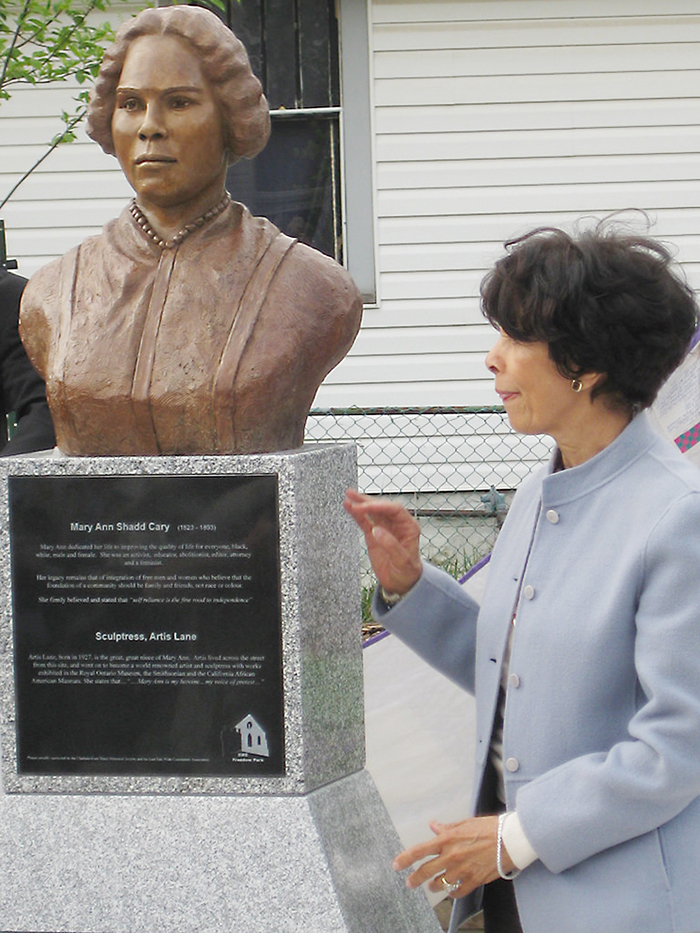 By Alysson Storey
Special to the Voice
Internationally renowned sculptor and social justice activist Artis Shreve Lane will headline the 77th annual banquet of the Rotary Club of Chatham on Oct. 28.
Lane has always been in the centre of history; making it, creating it and reflecting it. From her earliest childhood in a two-room schoolhouse for black children to standing alongside the First Lady of the United States unveiling her work on Capitol Hill, Lane's achievements are history making all around.
"I first started creating art as a very young child in Chatham-Kent," says Lane. "I didn't have any art supplies to speak of, so once at my grandparents' farm, I brought my porcelain doll down to a small stream on the property, and sculptured the doll out of mud from the riverbank. I didn't think about it, I just did it. Buxton, and by extension, Chatham-Kent is where my artistic talents first revealed themselves, so it is truly an honour and a pleasure to come back home. I am very much looking forward to it."
The Rotary Club of Chatham also has a longstanding history – the club itself turns 95 on Nov. 1, and the annual banquet is on its 77th edition.
"Chatham Rotary has always been fortunate to host top-notch, internationally known keynote speakers for our Annual Banquet," says Alysson Storey, President of the Rotary Club of Chatham. "To have someone of Artis' calibre join us for our Banquet is such an honour. As a woman of colour and artist, she has such an inspirational and incredible life story, and so many achievements in both art and civil rights. It's truly an honour to welcome her back home, to hear her message and to celebrate her achievements".
And her accomplishments are legion. She was the first black woman to win the Dominion of Canada Award at age 15, the first black female student at the prestigious arts university Cranbrook Academy in Michigan, and created the first-ever memorial to an African-American woman in the Capitol Building in Washington, D.C., unveiled by First Lady Michelle Obama in 2009.
She has created portraits of famous personalities such as Oprah Winfrey, Rosa Parks, Hillary Clinton and the Kennedys, along with giants of industry and commerce. She has spent Thanksgiving dinners with Sidney Poitier and gave painting classes to Miles Davis.
"He was a good student but I told him he should keep his day job", Lane says, laughing.
These stories and more will inspire, amaze and entertain. The banquet takes place Oct. 28 at 5:30 p.m. at the John D. Bradley Centre at 565 Richmond St. in Chatham. Tickets are $60 and available by calling the Rotary office at 519-354-8300.