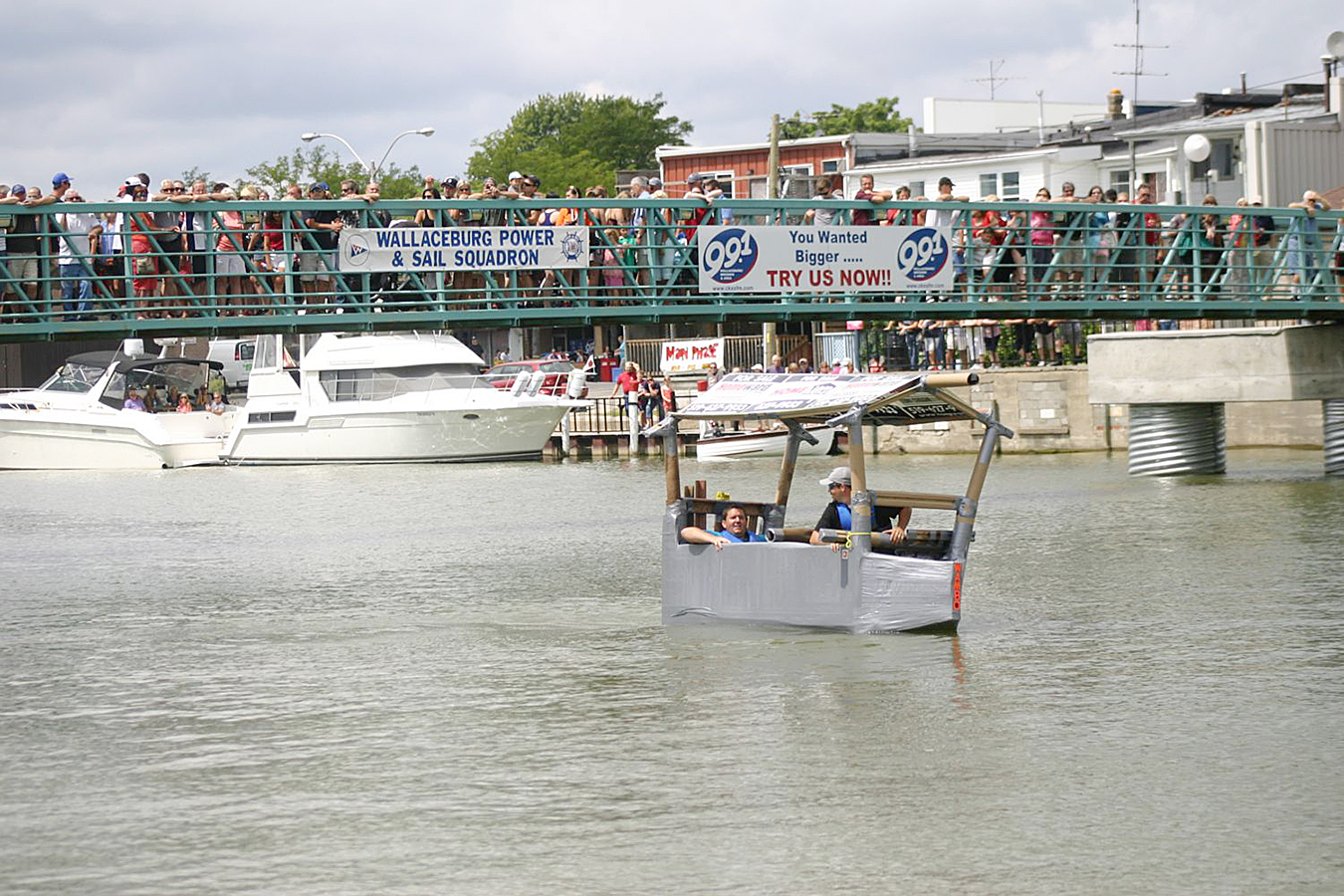 As it heads toward its 30th anniversary, the annual Wallaceburg Antique Motor and Boat Outing (WAMBO) continues to grow and evolve.
The three-day event that kicks off this Friday has grown, in its 28 years, from an exhibition of boats to one of southwestern Ontario's largest free summer festivals.
The downtown river basin will be the centre of attraction as scores of boats are moored throughout the area.
At the same time, James Street will be packed with antique, specialty and classic cars, fire trucks and motorcycles.
During the event downtown parks will feature models and toys, art displays, craft tables and souvenirs.
Event chairman Bill Wolsing said more than 30,000 people are expected to attend the "family-oriented" weekend of events which has remained free.
"WAMBO provides a wonderful opportunity for people to really experience Wallaceburg," he said. "It's an amazing community that just continues to show how special it is."
Wolsing said the emergence of several "new generation" managers keeps the event fresh.
Throughout the years WAMBO has added participatory events.
"There's plenty to see but there's also plenty of things to get involved with," he said.
A recent addition that has proven extremely popular is the Cardboard Boat Races held at WAMBO in 2015.
"We have a couple individual entries, as well as Community Living Wallaceburg, Home Hardware, Homeward Realty, Feddes Fabrications, The Co-Operators and 99.1 CKXS FM," said Kristin Verleyen, organizer of the event.
The event will be held at 1 p.m. Saturday.
A big part of the event is entertainment which Friday night will feature Blues on the Rocks, a Chatham-Kent group that will entertain in the main tent on James Street.
Saturday night will be highlighted by Elvis impersonator Bruno Nesci who will perform two sets and winners from the CBD Star Search talent competition earlier this year.
Wolsing said the musical entertainment has become a fixture at WAMBO.
"We put a lot of pride in having a free show for everybody and that is because of the generous sponsorship from our local people in town here," he said.
Committee fundraising manager Aaron Hall said he has been amazed at the degree of community support.
This year's event has a Facebook page and Twitter feed
"It's an excellent way for us to keep everyone up to date with what is happening with WAMBO," said Hall.
"It is also a great way for us to generate a buzz in the community about Wallaceburg's signature event."
Hall, who owns the Sydenham Current, said the online newspaper teamed up with ScreenArt in Wallaceburg to hold a special contest by utilizing WAMBO's new social media channels.
"The contest went over extremely well," Hall said.
Throughout WAMBO weekend, Hall said he is encouraging people to use the hashtag #WAMBO28 when posting to Facebook and Twitter.
"We want to share in everyone's excitement about WAMBO," he said.
"Having just recently come on board with the WAMBO committee, it was amazing to see the business community in Wallaceburg and surrounding area come on board and support the event through sponsorship," Hall said.
"It is a true testament to everyone involved with WAMBO for their hard work and dedication over the years. When going around town and speaking with business owners and managers, it was clear the vast majority of people are excited about WAMBO, they're looking forward to attending once again and it is always circled and highlighted in people's calendars."
For those who have the need to run, the fourth annual WAMBO run will take place August 13.
The event, organized by Wallaceburg's Defiance Running Club, will feature a five kilometre walk division, a five kilometre run division and a 10 kilometre run division.
The race, which begins at the First Baptist Church at 8 a.m., follows the Sydenham River.
Top male and female finishers in all three divisions will receive a $50 cash prize and a $25 Black Goose gift card.
All proceeds from the run go towards the Defiance Running Club's youth running program.
The cost to participate is $35. Registration can be made at defiancerunningclub.ca
Although boats will begin arriving throughout the day, the event will begin Friday at 5 p.m. with opening ceremonies and a bell ringing at Civic Square Park.
The Knights of Columbus BBQ at the corner of James and Nelson Streets will begin at 4:30 p.m.
At 7 p.m., Blues on the Rocks takes the stage.
Participants in the Terry Glover Memorial Cruise will begin gathering at 5 p.m. The cruise starts at 7 p.m.
From 8 to 11 a.m. Saturday morning, the Knights of Columbus will hold breakfast at the James Street municipal parking lot.
Boats, cars and motorcycles will be on display from 8 a.m. until 5 p.m. Antique and custom bicycles will be on display in front of the Wallaceburg Museum.
Nearby will be the annual toy and model show at the south side of the Lou Stonehouse walking bridge.
That vicinity will also see Art on the Boardwalk, craft and flea markets all day.
At noon there will be at police boat parade and boat show awards will be presents.
A karaoke tent will be set up next to the Wallaceburg library all afternoon.
Cardboard boat races will begin at one, as will be the soapbox racing on the south side of the river.
A fire truck parade will be held at 3 p.m. and awards for cars will be distributed from 4:30 to 5:30.
The music will continue with the Elvis tribute at the James Street municipal parking lot. Attendees are reminded to bring lawn chairs.
An interdenominational church service will be held Sunday from 10 to 11:30 a.m.
Comments
comments