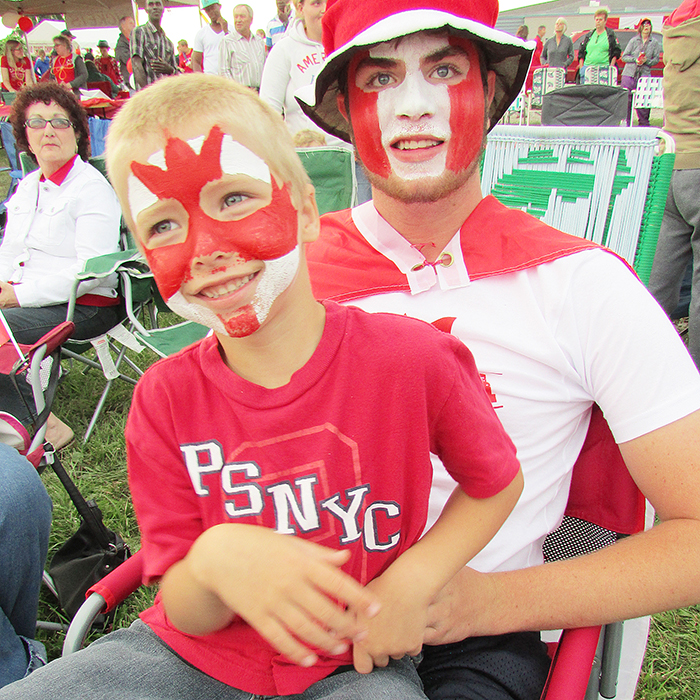 Thousands of Chatham residents are expected to stream to nearby communities to view Canada Day fireworks in Tilbury, Blenheim and Wallaceburg this Thursday and Friday.
Organizers in the three communities estimate some 15,000 persons, including Chathamites, are expected to attend the celebrations.
Local residents who want to start their Canada Day celebrations early should head to Tilbury Thursday night where the Tilbury BIA hosts an event at Memorial Park.
Celebrations begin at 7 p.m. with live music and cupcakes prepared and donated by Tilbury Foodland.
Glowsticks will be handed out courtesy of the Tilbury Kinsmen and at dusk, a fireworks show sponsored by Blain Trucking and K&H Distributing will begin.
Other sponsors are B&K Salvaging, the Rotary Club of Tilbury, Courey Law and the Tilbury Lions and Lionesses.
On the evening of Canada Day, the lack of a fireworks show in Chatham helps swell crowds.
Glad Tidings Community Church in Blenheim hosts evening activities and fireworks at dusk.
Lead Pastor Eric Revie said activities begin at 6 p.m. with live music, dance groups and activities for children including balloons and inflatables and plenty of food on site.
The event is sponsored by the church in partnership with Ridge Landfill Community Fund and the Municipality of Chatham-Kent.
"We expect to have between 5,000 to 7,000 people in attendance," he said. "We have a number of people from Chatham come out and they're more than welcome."
Kevin Roocroft, chairman of the Wallaceburg Family Fireworks Festival, said more than 6,000 people are expected at Kinsmen Park for their event.
Committee member Kristyna Roocroft said not only does the Wallaceburg community support the event but also plenty of out of town attendees drop by to drop off donations.
The celebrations begin at 3:30 p.m. with opening ceremonies featuring a welcoming speech, performances by the United Nations singers, and O Canada in French and English.
Birthday cake will be served.
From 4 p.m. to 8 p.m., there will be free children's activities including face painting, balloon twisting, inflatables, a cow train, activities by the family centre, Alyssa Doherty of Personal Princess Parties, Zoo2You exotic animals and more.
At 7 p.m., there will be an old-fashioned cherry pie-eating contest (no hands allowed) sponsored by Big Chief Drive in.
At 10 p.m. there will be the singing of O Canada and a fireworks show.
Through the day there will be music, craft and vendor tents, food trucks and a free shuttle that will be stationed in front of the former Sobey's store on McNaughton Ave. and will run on a continual basis beginning at 3:30 p.m.
Chatham's celebration will take place Friday morning.
The downtown Cenotaph and Tecumseh Park will be the scene of a ceremony beginning at 10 a.m.
Chatham Legion Branch 642 pipe band and colour guard is marching from the Cenotaph to the band shell, will form circle and play another tune.
Host Dave Van Kesteren, MP will give a brief welcome,
followed by presentations by historians Doug Robinson who will bring to life the Skirmish at the Forks of the Thames, Gwen Robinson of the Chatham-Kent Black Historical Society who will share the Black contribution to the community and John Jordon who will enlighten the crowd on the area's agricultural legacy.
Chatham-Kent CFO Don Shropshire will engage our imaginations with the promise of tomorrow.
Following the presentations, everyone will be invited to enjoy a large Canada Day cake and visit the neighbouring Canada Day activities.
Every child who attends will receive a free Canadian hand flag, a flag pin, and several stickers. Please bring your own chair.
C-K Museum will be free and offer real old-fashioned iced tea, Thames Art Centre will now be open for free visits, and Milner House is free and open.
The Chatham Legion Branch 642 will be open and Retro Suites is offering a colouring contest for those 12 and under.
Participants will receive drinks, cotton candy or popcorn and a chance to win prizes.
Mayor Randy Hope is hosting a floating concert in the "Grassy" area on Mitchell's Bay July 2 with corporate sponsorship from a variety of wind energy companies.
For more information visit the group's Facebook page
facebook.com/Grassy-2-Rock.
Comments
comments