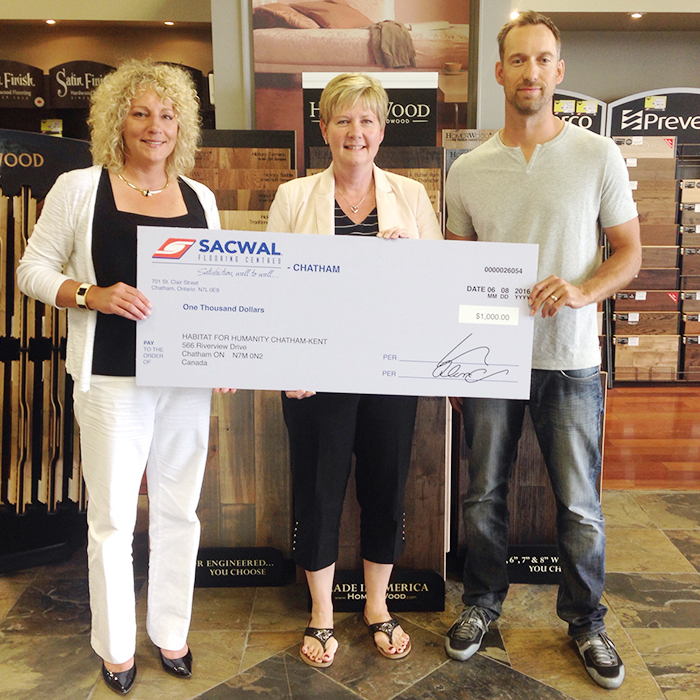 CV
Volunteers ranging from experienced to first-time builders gathered on June 11 with one thing in common. They were there to build a home and make a dream come true for a local family.
Thanks to Habitat for Humanity and the many community partners that dream is now a bit closer to becoming a reality for Athena Lumsden and her three children.
Habitat for Humanity depends on the generosity of the community to help them achieve the large task of building a home, and Sacwal Flooring is one of those partners that joined the effort last year by providing the flooring and its installation for the house in Wallaceburg.
"We are thrilled to be partnering with Sacwal and have just learned that they have pledged to provide flooring for every Habitat for Humanity home built in Chatham-Kent," said Nancy McDowell, Executive Director of Habitat C-K. "Our partnership has grown over the year to include donations to our ReStore, volunteer involvement on our ReStore committee, advertising collaboration and fundraising support."
Sacwal Flooring recently hosted a barbeque as part of the Chatham-Kent Home Builders Association's Parade of Homes and raised $1.000 in support of Habitat's local work.
"Having the security of owning a safe, decent home that is affordable provides stability for a family and hope for their future," said Alanna Aarssen from Sacwal. "We are thrilled to be part of providing that future in partnership with Habitat right here in our community."