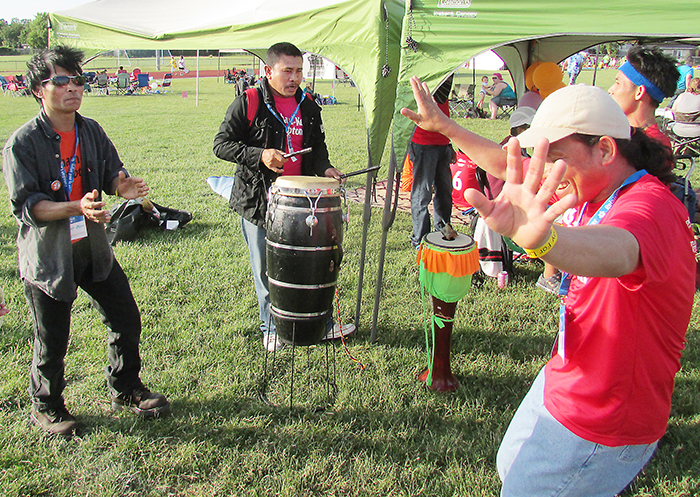 A last-minute plea for participants meant this year's Chatham-Kent Relay for Life will top last year's fund raising and participation levels.
Krissy Rioux of the Canadian Cancer Society said some 370 people and 30 teams raised more than $80,000 in the six-hour event held at the Chatham-Kent Secondary School Athletic Complex Saturday.
"We're already at last year's total and we have more donations coming in through the end of the month," she said. "The number of people just kept on increasing. We registered 40 people today at the event."
Chair Jim Blake said Relay demonstrates the sense of togetherness shared by those who have cancer, their families and the community at large.
"The love, compassion and support is truly amazing," he said. "Everyone here gains strength from each other."
One of the most touching moments came at the conclusion of the survivor lap when the group waited for the final few to make their way around the lap to be included in their group photo.
Lou Gordon, who spoke on behalf of cancer survivors, shared how she was told in January of 2009 that she had colon cancer, despite there being no family history of the disease.
"I still remember one big tear ran down my cheek and all I could get out was "is it fixable?" and the rest was blah, blah, blah, blah – cancer. I couldn't believe it. We had no cancer history in my family and yet here I was."
She said support from friends and family helped her through surgery to remove the tumor and the recovery process. After missing that year's Relay event, she has returned each year since and is celebrating 7.5 years of being a cancer survivor.
Attendees at the 14th annual event were entertained by bands, dance groups, gymnastic and cheerleading as well as face painting and movies for the children.
Musicians who donated their performances included Face 4 Radio, the Remnants, Brooklyn Roebuck,
Walkin' 47,
The Delegates,
Tina Pumphrey, Brendan Babkirk and Musicians Fighting Cancer.
Centre Stage Entertainment was provided by 
Chatham Inspire Cheer & Chatham Inspire Gymnastics, 
Alexandria's Dance Studio and 
Zumba with Sara Hale & Billie.
Face Painting by "Princess Jasmine" was supplied by Cami Moore, and Home Depot supplied the building station.
Blake said the event couldn't have been possible without strong support from the volunteers and committee members and sponsors.
Greenfield Specialty Alcohols was the event sponsor, South Kent Wind was the Impact Sponsor and the Kent Cattlemen's Association was the food sponsor.
Local sponsors were RBC King Street, Progressive Waste Management, Teksavvy and Money Broker Financial Services.
"Just about everything you see here is donated," Rioux told the crowd. "We have very limited expense which means more money goes to cancer research."
Rioux said the five-year cancer survival rate has increased by seven per cent during the last decade and at present 63 per cent of those diagnosed with cancer will survive.
She said she's still hopeful the Relay goal of more than $100,000 can be met.
"We set an ambitious goal because we know the need is there."
Rioux said committee members are already discussing ways to improve the event next year.
"We've been through some changes in the past few years and our aim is to continue to make Relay for Life a fun and meaningful experience."
For more information or to donate, call the Canadian Cancer Office at 519-352-3690.