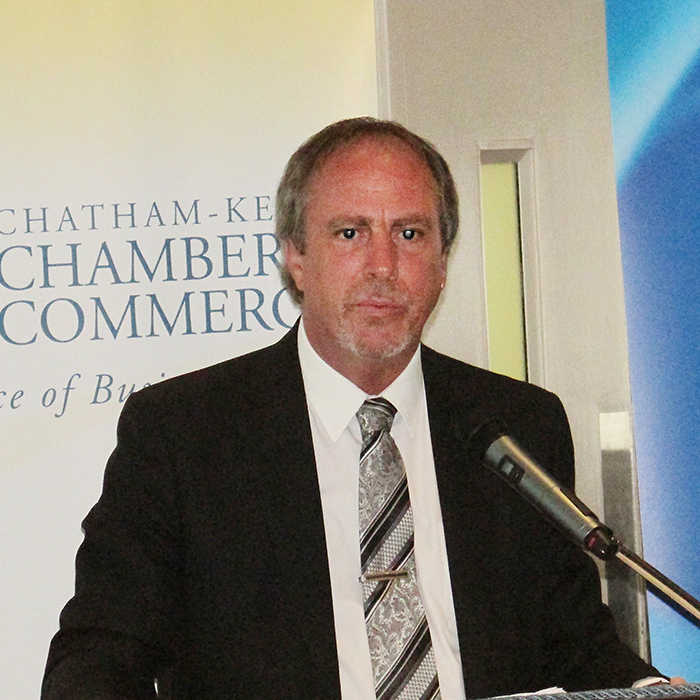 Don't mess with natural gas in this province.
That's the message from Chatham-Kent Mayor Randy Hope during his annual breakfast address to members of the Chatham-Kent Chamber of Commerce.
As he detailed the municipality's long-term strategies, he also showed how much he supports one of the largest employers in Chatham-Kent – Union Gas.
"I'm totally pissed at the provincial government," he said candidly, referring to the recent document leak that indicates the Wynne government wants to phase out natural gas heating by 2050.
Environment Minister Glen Murray has since said there are no plans to cut out natural gas, but the government refuses to provide any details of their looming cap-and-trade climate change plan.
Hope is worried they'd still in some way heap additional taxes onto natural gas.
"You've angered me," he said, referring to Murray. "You are not going to interfere with natural gas. It's one of Ontario's key economic drivers. The economic impact to this community is so important.
"Don't think you need to be a leader in destroying our economy just to be a leader."
Hope added the municipality would "lead the charge" against any plan to reduce natural gas in the province.
"I will turn this province upside down," he said. "I'm not going to let off. I don't want this to be cost prohibitive."
Hope said this municipality cares about climate change, and wind turbine projects inside our borders provide 23% of the province's wind energy, enough power to provide energy to 334,000 homes in Ontario.
"We care about the climate. Chatham-Kent has done its part," he said. "Yes, I support green energy; yes, I support clean air … but natural gas is important. We were doing our part to reduce the use of coal-burning plants, but how far do you go?"
Hope stressed how important it is in Ontario for homes to be heated by natural gas, and how the greenhouse industry relies heavily on it for heating purposes.
He said he spoke recently with the president of the Association of Municipalities of Ontario (AMO), Gary McNamara, over the province's stance, and confirmed AMO does not support negatively impacting natural gas in the province.
In fact, Hope said if things don't change, this year's AMO meeting in August could become a very heated one.
"We don't do emergency resolution at AMO. But this might be the year."
Meanwhile, he told the gathering about CK Plan 2035, which is a long-term strategy that would guide all elements of municipal planning and action to create a community "where everyone who wants to work is able to work in meaningful employment … and a healthy, active, safe, accessible community within a healthy natural environment and a healthy built environment."
"With the 2035 plan, we have to be more organized bringing communities together. This is a collaborative approach," Hope said. "We need to come up with a comprehensive plan."
Community councils and groups are part of that plan, he added, and feedback is encouraged.
The next community engagement forum on June 13 in council chambers will detail the plan for the public. Hope would like to hear from citizens, adding it's one thing to gripe to friends around a table, but another to provide context to municipal officials directly.
"We want to listen, but we can't hear if you aren't talking," Hope said. "We need people to engage. Give us your views."
Hope added that the plan wouldn't lead to some utopian community, as there are financial realities involved in running the municipality.
"We can't be everything to everybody. We can't fix every road every year," he said. "We need to set a path and a direction. It can't change every four years."
Hope said there will very likely be a need to make changes or tweaks to elements of the plan over the next 20 years, but stressed the need to have the overall objectives set out and maintained.
Comments
comments