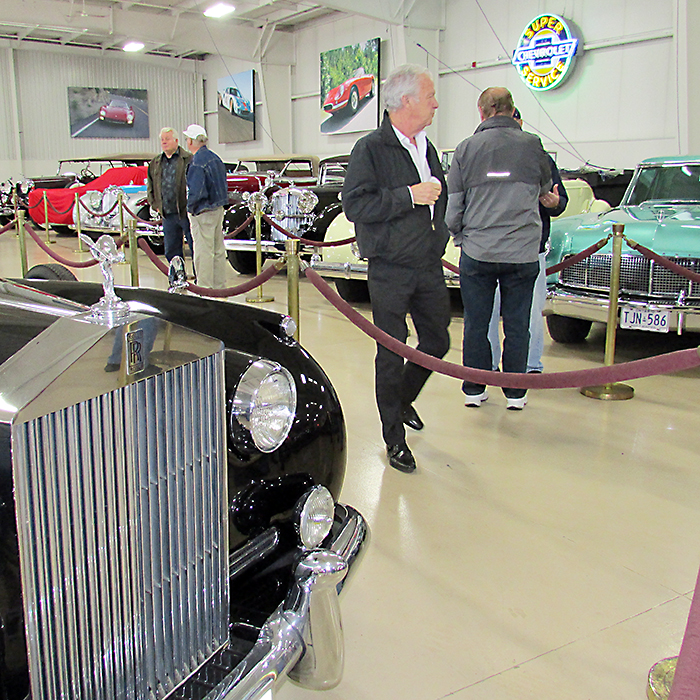 I'm going to say something that the municipality can't seem to say: Thank you, RM Classic Cars, thank you.
Thanks for being a great part of the fabric of Chatham-Kent. Yes, we are an agricultural-based community that once had a thriving manufacturing base related to the automotive industry. But we also have this gem of an operation, and home-grown at that, in RM.
I attended my first Cars & Coffee event on the weekend to take some photos for The Voice. I planned on breezing through, snapping pics and heading out in about 15 minutes.
I was there for over an hour, caught up in conversations, or outright gawking at the vehicles on display.
Even driving into the parking lot, you could feel the vibe. The low rumble of vintage car engines as people pulled their showcase vehicles up to display them certainly set the tone.
But then I walked into the Classic Car Exhibit – you know, the one the municipality shut down when it pulled its tourism funding earlier this year – and encountered South Kent Coun. Trevor Thompson and his family eyeing up the various vehicles.
There were clusters of folks gathered all over the place – inside and out – talking about the cars on display, the costs of restoration and generally enjoying the atmosphere. It seemed like every second person had a camera strapped around their necks.
All the RM folks were quick to chat, proud of their work, and were very polite folks.
I walked up to see a couple of guys working on a beautiful red Ferrari outside the RM shop. It turns out it was a 1971 355 GTB4, a ridiculously gorgeous car.
They cranked it up, and heads turned. A V12 engine can do that.
After shutting it down, the driver got out, walked over to a red Alfa Romeo that was parked beside the Ferrari, closed the passenger door, looked over at me and said, "Bruce!"
It was Dr. Victor Varma, a radiologist at the hospital and the man who injected cortisone into my hip before I ultimately had it replaced. I hadn't recognized him behind his sunglasses, and mistakenly assumed he was an RM staffer.
Again, how cool is that? A radiologist who is such a gear head that he's right at home at RM, not looking at all out of place beside his buddy, Don McLellan, who has worked for RM for 27 years.
Victor certainly knows his vehicles. He filled me in on the 355's history, speaking with such a passion I asked if it was his car. He laughed and said it was out of his price range. McLellan said it is worth about $700,000.
But the 1968 Alfa Romeo was Victor's.
And those were just two of the cars people came across on Saturday at RM. Here we have a facility – in a small Ontario municipality no less – where the Batmobile is on display nearby Hermann Goering's Mercedez Benz roadster (complete with bullet holes), which is not far away from the General Lee from the Dukes of Hazzard, while a Lamborghini Countach and dozens of other vintage, antique and downright unique vehicles sit nearby.
Even if you aren't a gear head – and I'm not – you have to appreciate what we have here.
Some are display vehicles, while others are sweet rides that will soon be at auction at some faraway exotic location.
And they are all right here in Chatham-Kent. On display for the public. Well, at least during Cars & Coffee events, because the municipality killed the exhibit when they pulled the funding.
The price tag for the exhibit was just over $15,000 a year, after factoring the price of tickets sold to the exhibit.
Yes, a $15,000 expense to a very unique tourism draw. Should I mention how much the Bradley Centre costs us each year in expenses, or the municipal tax dollars that were poured into the Capitol Theatre over the years? How about the business park on Highway 401 that seems to be missing a key ingredient: businesses?
When I set foot in the exhibit back in February after the closure announcement, I was stunned to see what was on display and what was not appreciated by municipal folks.
And when I went back to RM on the weekend for Cars & Coffee, I knew the municipality had certainly dropped the ball on this one.
When you have such a unique treasure in the heart of your municipality – and it's in a rural setting no less – you don't discourage people from seeing it, you promote it.