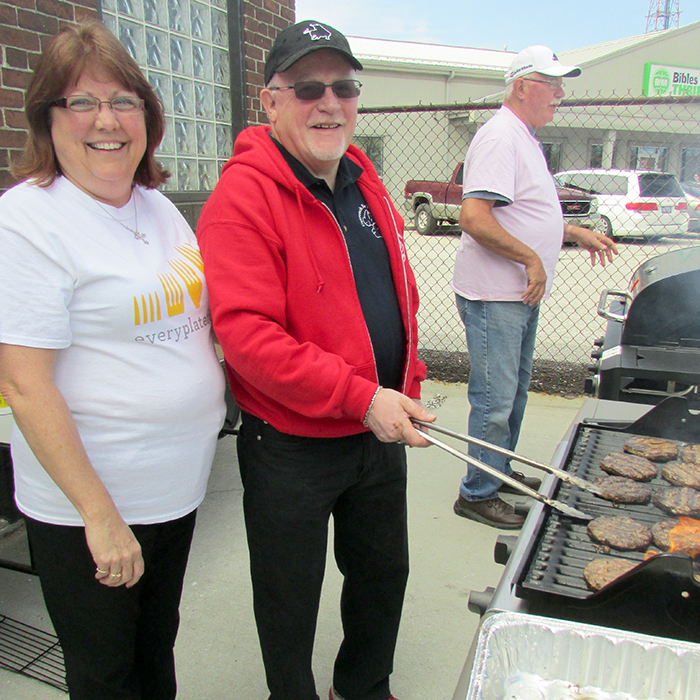 Chatham Outreach for Hunger joins food banks across Canada this month in bringing the issue of hunger to the forefront.
During the month of May, Food Banks Canada is encouraging every food bank to participate and put on the Every Plate Full event, which provides a barbecue lunch for the community to enjoy. The motto for the event is, "None of our neighbours should go hungry this summer."
Volunteers manned the grill to provide hotdogs and hamburgers Tuesday to community members, while Dez and Louie donated their time to do tattoos and balloon animals for the children.
According to Brenda LeClair, executive director of Outreach for Hunger, summer is a season that has a low number of donations compared to the rest of the year, but the need is still there.
"Many of us tonight will sit down and not even worry about what we are going to have for dinner, but many others don't have that luxury," LeClair said. "Summer months tend to have low donations, but hunger doesn't take a holiday."
She said the entire month of May is an awareness campaign and she is hoping people will step up and make sure the shelves at the food bank are kept stocked even over the summer months.
"We have 30-40 new families registering each month and to see that is kind of disheartening," LeClair noted.
Items such as fresh fruits and vegetables, protein items like peanut butter and canned meats, canned goods, cereals, and personal items like toiletries are also needed.
"People looking for jobs and going to interviews need stuff we take for granted in the morning like soap and shampoo. We try to look at helping the whole person. Feeding them is critical but self-esteem is important too," LeClair said.
Also during this month, there will another barbecue May 14 at the Giant Tiger on Richmond Street to celebrate the store's anniversary. Mark Lush, manager of Giant Tiger, is donating all proceeds from the barbecue to Outreach for Hunger and is supplying the food.
Comments
comments