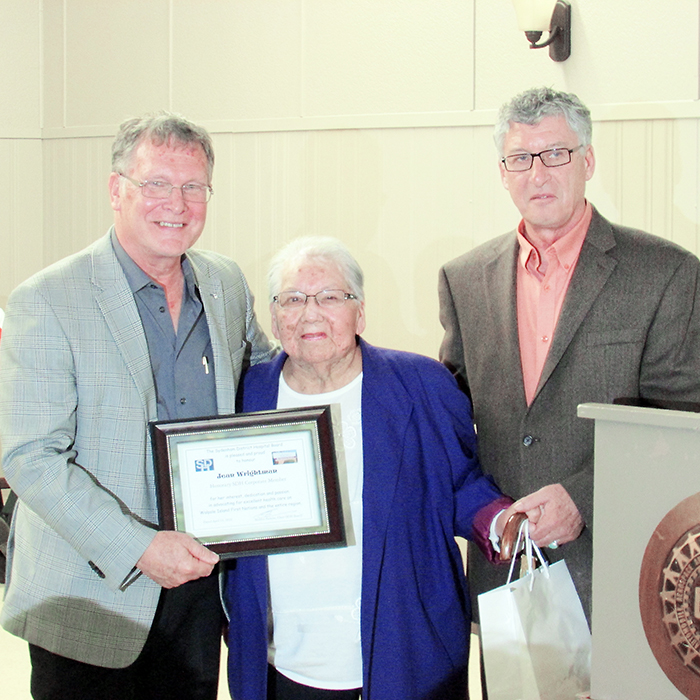 An 80-year-old Walpole Island elder who in her words, "just made up my mind," played a key role in helping form what is being hailed as a new future for Wallaceburg health care.
Jean Wrightman petitioned Walpole Island Council April 12 to hear concerns about what was then the rumored closure of the Emergency Department at Sydenham District Hospital.
"I was really nervous. I haven't been in good health lately, and I know how many of my friends and family need that hospital," she said. "I'm 80 and my son uses emergency a lot and I thought who's going to look after him when I'm gone eh? I just made up my mind that I'm going to go to council and ask them why they're not supporting the hospital."
"I lined up a few speakers; Jeff, (Wesley), Sheldon (Parsons) that retired nurse and ex Chief Joe Gilbert," she said. "Once they heard what could happen, of course they said 'yes.'"
Walpole council supported 24-hour emergency medical service. And Chief Dan Miskokomon offered a copy of the CKHA confidential report to Wesley, a Wallaceburg Coun. and former SDH board chair. He said the document confirmed what CKHA officials had tried to hide.
Wesley said Miskokomon's action showed attempts by the CKHA to divide the community had failed. He said the SDH board had tried numerous times to get copies of the report for himself and councillor Carmen McGregor without success.
"Dan said to me, 'You don't have a copy of the report – I'll give you mine.' If the CKHA has any beefs about me reading from the report, they can take it up with the chief and me," Wesley said.
Walpole Coun. Rex Isaac said not only did council commend Jean for he work, the report led to council's unanimous support for the hospital and 24/7 emergency medical care.
In recognition of her efforts, the SDH board amended its bylaws to provide her with honorary membership in the corporation.