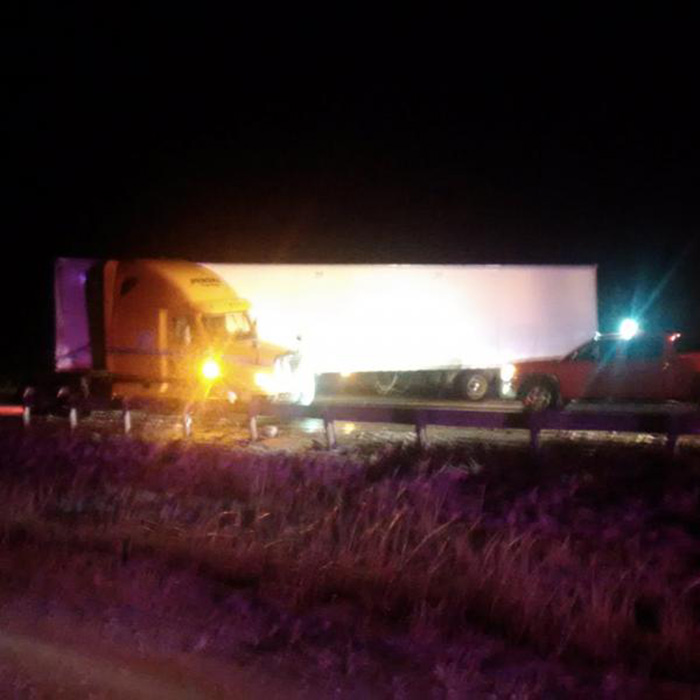 Chatham-Kent Ontario Provincial Police (OPP) officers were kept very busy overnight on Tuesday evening and into this morning, attending at approximately 17 vehicles, most of which were tractor trailers that had left the roadway or jackknifed on Highway 401 through Chatham-Kent.  The westbound lanes of Highway 401were shut down at Bloomfield Road just after eigght last night and reopened just before midnight.
One driver of a tractor trailer was transported to hospital with non-life threatening injuries.
Chatham-Kent OPP officers remain out on Highway 401 at this time, assisting with traffic slowdowns and lanes closures with regard to vehicles in the ditch and median.
Motorists are advised to slow down, drive according to the road conditions and leave ample room between you and the vehicle ahead of you.
Chatham-Kent OPP is urging motorists to be cautious of officers and tow trucks that are out on Highway 401 today attending to vehicles in the ditch and median along the highway.
Chatham-Kent OPP would like to remind motorists to drive responsibly at all times, and particularly during inclement weather and road conditions.  It is every driver's responsibility to do their part in keeping the roads safe for everyone.
Comments
comments