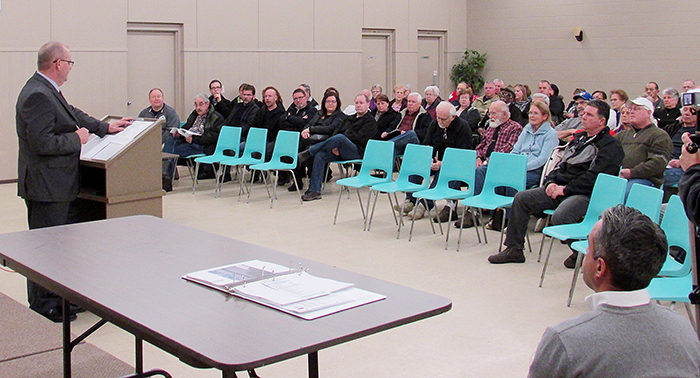 Eight months after consultants were almost booed off the stage at a public meeting, they received a standing ovation Thursday night when it was announced the Wallaceburg Water Treatment Plant would remain open.
A crowd of more than 150 people attended a public meeting held by Stantec Consulting and the Chatham-Kent Public Utilities Commission at the UAW Hall to hear a decision which had been made earlier in the day.
Last June, consultants had recommended closing the W.P. Moynihan Water Treatment Plant Wallaceburg that draws its water from the Snye River and building a pipeline to connect to Chatham in its place.
The decision was almost universally attacked by residents who doubted most conclusions in the document, from costing to the quality of water from the Chatham plant that draws its supply from Lake Erie.
The committee included PUC member and Wallaceburg Coun. Jeff Wesley, fellow Wallaceburg Coun. Carmen McGregor, Wallaceburg area resident and environmental consultant Kris Lee, and Wallaceburg Business Improvement Association representative Mike McCarron, as well as two PUC employees and two employees of Stantec, the consulting firm that developed the options.
Stantec developed a matrix rating various options on environmental, financial, technical and social impact and then subsections within each.
When results were tabulated, using the existing Snye River intake scored highest at 85 per cent while connecting to the Chatham water system via Eberts and Baseline Road was next at 77 per cent.
Wesley said the process was long but worthwhile.
"No punches were pulled."
McCarron said he was "very impressed with the professionalism and fairness" of the process while McGregor said she was happy with the result as well as the turnout at the meeting.
Wesley pointed out that although all members of the PUC at the meeting endorsed the current intake plan, a March 2 vote is needed to finalize the decision.
"I would urge you to contact the PUC members and let them know how you feel," he said.
When he then turned to the crowd and asked by a show of hands who was in favour of keeping the current intake, every hand appeared to be in the air.
Chatham Mazda from Chatham Voice on Vimeo.
Henri Timmers, founder of a Facebook group "Say no to Lake Erie Water", said he wouldn't really be happy until the March 2 vote.
"I'm glad to see what's transpired but I haven't forgotten that Stantec and the municipality, for a long time, refused to acknowledge the opposition to their preferred position," he said, "We had 500 people join our group, the Chamber of Commerce and the BIA and practically everyone said we didn't want Lake Erie water because of the algae issues and we were still ignored."
Scott Bowen, owner of The Glass Guru, brought his family out to the meeting.
"This is about our town, our water and our kids," he said. "It's too important to not be here."
He said he feels much safer with the current water source.
Wallaceburg resident Warren Milord agreed.
"They (the PUC) needed to do this for the people," he said. "Our wishes have to count for something."
If approved by the PUC and ratified by Chatham-Kent Council, a ten-year capitol works plan will be put in place to ensure the treatment plant is adequately maintained and upgraded as necessary.
"Capacity isn't a problem," Wesley said. "Like anything else, we need to make sure we maintain the plant and it will serve us well for years."
PUC manager Tim Sunderland said he was pleased with the outcome, even though it took two years.
"We chose the right solution," he said.
He admitted it is highly unusual to have had four public input meetings.
"Two is normal, I've seen three but this issue needed four. We can go to the province and show them we've been transparent, we've done everything by the book. It's a great outcome."
Comments
comments