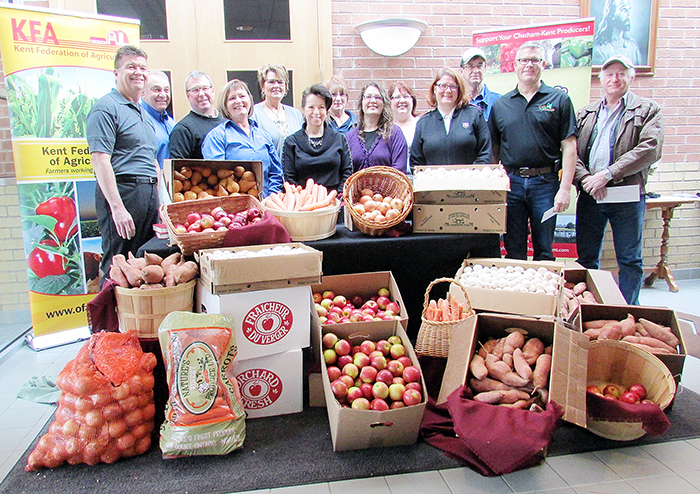 Armed with locally grown food and cold, hard cash, members of the Kent Federation of Agriculture (KFA) celebrated Food Freedom Day Feb. 9 by donating to local food banks.
The KFA delivered about $2,600 in donations to Outreach for Hunger and the Salvation Army food bank, as well as thousands of pounds of produce and meat.
In fact, Kathy Delanghe of the KFA said one donor gave 2,000 pounds of fresh fruit and vegetables.
Chatham Mazda from Chatham Voice on Vimeo.
Food Freedom Day is the day when the average Canadian has earned enough money to pay for his or her grocery bill for the year. This year, it is 40 days into the year.
Kim Cooper, an agricultural specialist with the municipality's economic development team, said many people take their food for granted locally, as so much of it is grown here, and prices are very reasonable, for the most part.
Alice Uher, part of the KFA's Food Freedom team, has been involved with Food Freedom Day for years, but said this is just the second year the KFA has really promoted it.
"This is more proactive," she said. "This is safe food; Chatham-Kent food. There is so much generosity in this community."
That generosity is greatly appreciated, Capt. Stephanie Watkinson of the Salvation Army said. To many food bank users, canned and boxed items are their staples.
"Fruits and vegetables are just like gold to us," she said. "This is just a welcome surprise."
Brenda LeClair of Outreach for Hunger said the fresh produce also helps nudge people in a proper nutritional direction.
"We're really trying to promote healthy eating. This can really make a difference in their lives."
Jacques Tetreault, a local farmer, said locally grown food is in abundance.
"We have so much available right here in Chatham-Kent," he said.
Uher said the donations to food banks could encourage consumption of that food.