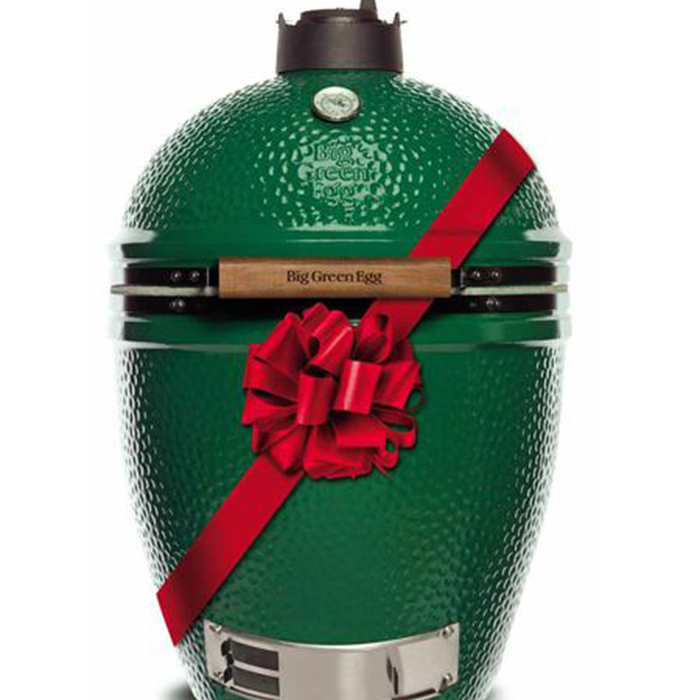 I realized I'd been away from my barbecuing efforts in November and early December. That changed in a big way over the holidays.
That's what large hunks of meat can do, as well as tasty appetizers.
From ham to prime rib, to vegetables and a chip dip, the Big Green Egg was back in action.
Chatham Mazda from Chatham Voice on Vimeo.
By the end of it, I realized I'm down to less than a bag of charcoal.
I feared the Big Green Egg's talents would be wasted on Christmas Day, as my sister-in-law hosted a big family dinner, and all I was asked to cook was a big spiral ham.
"Cook" isn't the right word, as you are just warming up the ham because it's precooked.
But at more than five kilograms, that was a lot of meat to heat. It took upwards of four hours on the Egg.
And I was wrong. Despite the fact I double foiled the ham for most of the heating/cooking process, it was awesome and got inhaled by the 20 guests at dinner.
But back to the beginning. We pulled the ham out Christmas morning and I had it on the Egg by lunchtime. Naturally, we couldn't just follow the reheating instructions. I suggested to my wife that we try some Ridge Rub on it (thanks to Alecia and Mike at Comfort & Soul for letting me use their magic rub). Mary applied the rub while I got the Big Green Egg going.
I then double wrapped the ham in foil to seal in the juices – the biggest issue with reheating ham and taking four hours to do so is that it can dry out, especially spiral hams, because it's already cut.
On the Egg it went at 275 F, and I naturally had to hang out in the backyard to ensure the temperature was stable on such a large piece of meat.
Here it was Christmas Day, and I was outside in just a heavy sweatshirt, cold beer in glove-free hand, the sweet smell of apple wood smoke, charcoal and ham emanating from the Egg, and the sun shining down upon me.
I'll take that kind of Christmas Day over a blizzard any time, thanks.
But I digress. We went over to Mary's sister's house, exchanged gifts, and then we had to pop back home to get the ham.
I added some more apple wood chips for the final stage, and pulled off the ham to heat up the Egg for the final stage, a short 425 F cook to caramelize the glaze.
After opening up the foil and adding the glaze, in went the ham.
I pulled it out a dozen minutes later, not sure what we had. I looked at it and worried some of the ham may have dried out.
I guess I was wrong. I didn't take the time to try it, as we wrapped it up, put it in a pan and headed back to the family fun.
Later, as we waited in line for the great selection of turkey, ribs, ham, mashed potatoes, squash, asparagus, etc., etc., folks were commenting on the ham.
Excellent!
I'm a turkey lover, so I snagged a good helping of white meat, before adding a chunk of ham to my plate, along with a bevvy of vegetables.
It was all awesome, ham included. I'm marking the rub down as something I'm going to try on all my barbecue options in the future.
I was proud of myself at dinner as well, as I only had one plate of dinner, resisting the temptation to go back for seconds. So what if it was a heaping first helping?
Still, the turkey and all the other rich food had its effect. The gathering broke up shortly after 9 p.m., and everyone headed home to fall asleep on their couches and in their recliners. Or was that just us?
Many of us gathered again on New Year's Eve at our place. I did the prosciutto-wrapped asparagus appetizer, as well as a couple of chicken breasts for a chip dip.
It's a really simple effort, as you mix cream cheese with seasoning, some shredded cheese and a bit of sour cream, and spread it in a shallow pan such as a pie plate.
I cut up the chicken, put it in a bowl and added a hot sauce before spreading it across the top of the cheese concoction. Naturally, more hot sauce went on top.
We warmed it in the oven and served with tortilla chips.
I guess that's why we tend to host family New Year's gatherings – the snacks.
To top off the holiday fine-eating fest, we had a prime-rib cook off the next day. My sister-in-law Jane did a prime rib in her oven, while I cooked on one the Egg.
According to Jane, mine won. But it wasn't as fine as the one I did last year, as I opted to cook to a higher internal temperature this year, and while juicy, it turned out mostly medium, rather than medium rare.
After such a rich selection of food over the holidays, it's back to chicken and salmon for us.