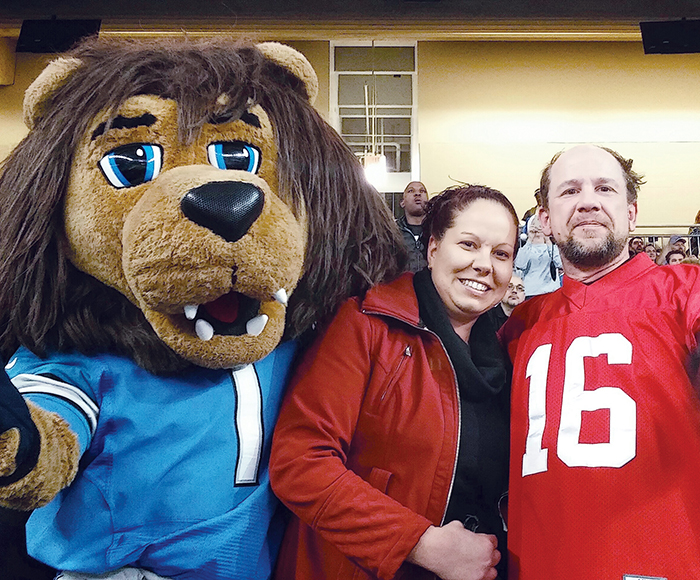 Chatham's Dennis Parker needed help from the enemy to turn this holiday season into an unforgettable one.
The longtime San Francisco 49ers fan got what he said was a great deal on seats for his family to the Dec. 27 Detroit Lions NFL football game, where Dennis's 49ers were the visiting opponent.
Chatham Mazda from Chatham Voice on Vimeo.
That set the stage for him to take a big step – propose to the love of his life, Davalyn Craven, a Lions fan.
To pull off the feat, Dennis reached out for assistance – from the Lions organization.
"I contacted Ford Field and asked if they put stuff on the Jumbotron. They don't do that anymore, but said their mascot, Roary, could help out," he said.
So with four children in tow, Dennis and Davalyn went to the game Dec. 27, with Dennis proudly sporting a bright red 49ers jersey.
The plan was to have Roary show up between the end of the first quarter and the start of the second, but with kids involved, the best-laid plans can go awry.
"We took four kids. They (Davalyn and the children) went for a walk," Dennis said, and they were late getting back to their seats.
It appeared Roary would have to come back at halftime, but just as the mascot turned to walk away, the family came down the steps.
Davalyn saw the commotion in front of her, and saw that Dennis was involved. Roary and Ford Field staff were right in front of her boyfriend.
"I was confused. I thought his mouth got him in trouble," she said of Dennis.
It couldn't be further from the truth. As Davalyn asked, "What's happening," Roary held up a sign and Dennis dropped to one knee.
"I was shocked. I didn't see that coming!" Davalyn said. "My heart was pounding really fast."
But she did manage to say yes.
The couple has been together for more than seven years. Marriage had been bandied about, but also all but discarded.
"We discussed it many times," Dennis said. "But it was never going to be."
"It wasn't a priority. Our kids come first," Davalyn explained.
But then this opportunity arrived, and Dennis realized he had to seize the moment.
"I just got a great deal on the tickets and thought this was the thing to do as a family," he said.
He was rewarded by Davalyn's complete surprise, and a moment to treasure forever.
"It was great. Just to have all those people around – our new friends," he said. "The people sitting right beside us even happened to be from Tilbury!"
Prior to Davalyn returning to her seat, Dennis asked a spectator across the aisle to capture the moment on video with his phone. It had thousands of views shortly after it went up on the Facebook page "Chatham Swappers Rants and Raves."
The next day, Davalyn felt the impact of that video. She's the manager of Things Engraved in the Downtown Chatham Centre. She noticed the manager of another store stop by, armed with a happy engagement card after all the staff at that store had watched the proposal video.
Dennis has even entered the video into the America's Funniest Videos competition, he said, as well as a Toronto wedding contest.
To view the clip on YouTube, click here.
For Dennis, this marked his third 49ers game he has attended in Detroit. This one was a blowout loss, but will stand as his favourite by far.
Family outings can do that, especially ones with such a storybook ending.