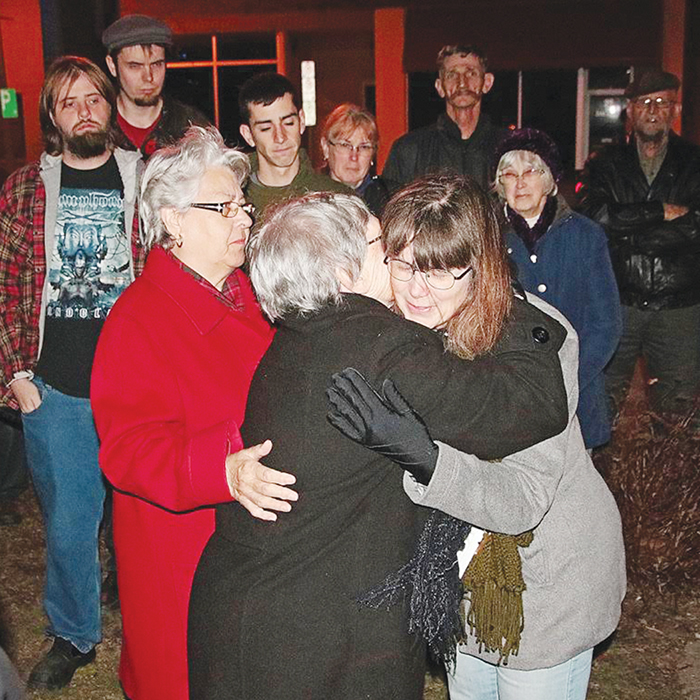 By Bryan Jessop/Southpoint Sun
Wheatley area residents have been given the opportunity to decorate Christmas trees with something more meaningful than tinsel or candy canes.
A Peace Memorial Tree Ceremony, put on by the Wheatley Business Improvement Association (BIA) Sunday at Ivan Coulter Park, served as a chance for visitors to pay tribute to the memories of loved ones who've since passed on.
Chatham Mazda from Chatham Voice on Vimeo.
The special service also honoured former Wheatley resident John Robert Gallagher, who was killed in Syria Nov. 4 fighting ISIS.
During the memorial service, members of the Wheatley United Church presented a prayer shawl to Gallagher's mother Valerie Carder while Zone A2 Commander and Wheatley Royal Canadian Legion Branch 324 past president Bill Robertson presented her with a Canadian flag. The flag presentation is customary of the Legion to family members of those who have died that have served in the military. Gallagher served with the 2nd battalion of the Princess Patricia's Canadian Light Infantry.
The presentations followed a projector screen video of The Trews' "Highway of Heroes," a song dedicated to Canada's military personnel who make the ultimate sacrifice during wartime.
The event was the idea of Katherine Burton, who approached the local BIA to gauge interest in hosting an outdoor, public ceremony. The organization in turn erected four Christmas trees — one at each corner of the Erie Street/Talbot Street intersection — as part of the tribute to Gallagher and the deceased family and friends of other area residents. Following the ceremony, visitors were invited to sign the names of loved ones to white and blue snowflakes and hang them on any of the four memorial trees.
"It's just a way to honour people who are missing in our lives," said Burton.
The trees are on display as symbols of peace and have been decorated with solar-powered lights. After the ceremony, Burton distributed the remaining snowflakes to area businesses to offer as memorial tributes for other residents to sign and add to one of the trees.
"I think it's a wonderful idea that the BIA had to put the trees at the four corners. It's a very wonderful symbol as people go by to see them and remind us that we have hope," said Pastor Richard Smith of Wheatley Baptist Church, which offered refreshments to visitors following the ceremony.