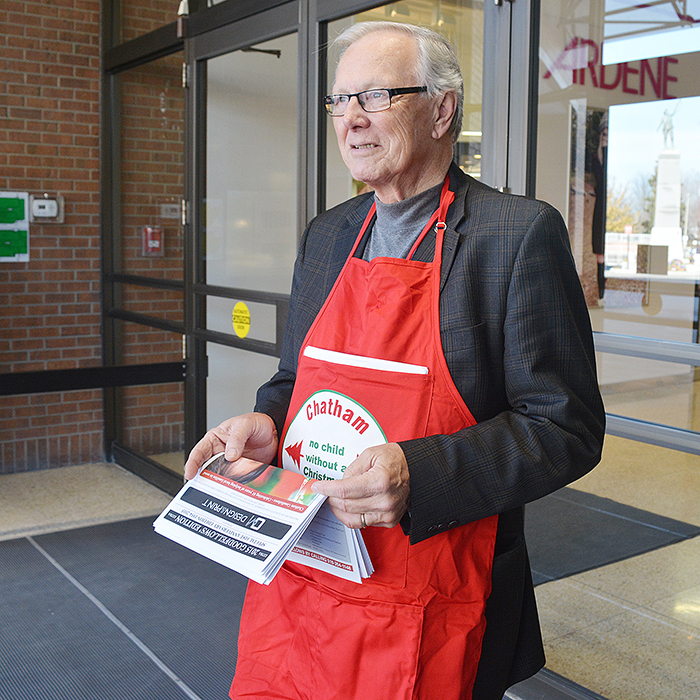 Making just $2,000 shy of last year's total, the Chatham Goodfellows board of directors is still pleased with the $34,500 in cash collected during the 2015 Street Sales campaign.
Hundreds of volunteers put on the red aprons and a smile all across Chatham Friday and Saturday to collect change and bills.
"Street sales were a bit less than the year before and I think, despite the fact the weather was wonderful for our volunteers, it was not conducive to Christmas shopping for people in this area," Goodfellow Tim Mifflin said. "We're lower in street sales, but our Porchlight campaign made $40,500; up $3,000 from last year. We're doing wonderfully and we're thankful people step forward every year."
Mifflin noted a large hockey tournament was also on this weekend, with our arenas in Chatham-Kent full of teams playing hockey.
"It's a huge event; 56 teams from around Ontario were here. That's a significant tourney," Mifflin said, which draws people away from shopping areas.
"The Chatham Goodfellows board of directors are appreciative of the continued support and generosity of the volunteers and Chatham-Kent residents to ensure 'No Child Without a Christmas,'" Mifflin added.
For people wanting to help out, toy delivery begins Dec. 21 at 5:30 p.m. from the former Sunnen Guspro building at 280 Grand Ave. E. and food packing begins at 8 a.m. on Dec. 22 and the Spirit and Life Centre (former St. Joseph Auditorium) on Wellington Street in Chatham. Delivery of food goes from 1 p.m. to 9 p.m.
Go to the Goodfellows website at www.goodfellows.ca for more information.
Comments
comments