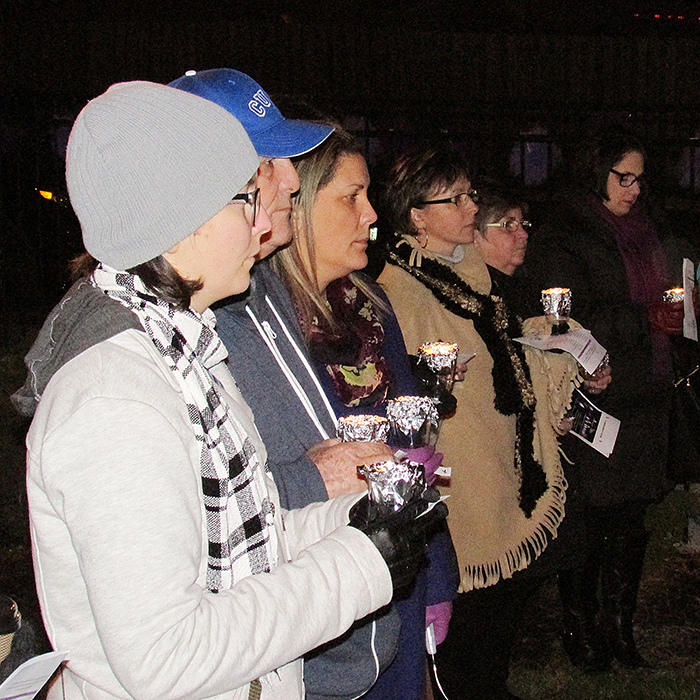 A group of some 30 women and men gathered at dusk last Monday to remember women who have lost their lives during the last year to violence and renew their commitment to the effort to end such deaths.
The gathering was a candle light vigil held at the Remembrance Stone at the Chatham Kent Women's Centre and it was the last official event to mark Woman Abuse Prevention Month.
The Ontario Association of Interval and Transition Houses (OAITH) documented 34 women who lost their lives in the past year as a result of femicide that they define as the killing of a woman simply because of her gender.
Laurie Willick of the Centre said the number is undoubtedly higher due to the number of missing women whose bodies haven't been found as well as cases under investigation.
"We know the number is higher," she said. "We just don't know how high."
As each woman's name was read aloud, one of those present stepped forward, blew out the candle they held and placed it near the remembrance stone.
Willick said OAITH has identified 691 women who have lost their lives in Canada since 1990.
The term femicide has been in use since the early 1880s and has been in widespread use since the 1970s to delineate the distinction between homicides and the targeting of women and girls, yet it isn't even in most dictionaries.
She said femicide differs from murder or homicide. Quite often femicide takes place in domestic settings and is the consequence of intimate partner or family violence. The perpetrators include family members, friends, acquaintances, colleagues, and strangers. These killings of women and girls are not random acts of violence.
Darlene Smith, president of the Women's Centre board of directors, said although Woman Assault Prevention Month is marked for one month, the violence is year round.
She lauded the " courageous women who are trying to stop the violence in their lives and in the lives of their children who want to love their parents", as well as police, courts, counsellors and family and friends of victims.
"Everyone known to a victim is affected by what's happening to her," Smith said. "It is so important that our Centre as well as the community at large provides the help necessary for her to break free of the violence and fear."
"We as a community need to continue to take this 'secret' and bring it into the light. There is no opportunity for change if the facts remain obscured. Fear is the power of the abuser," she said. "Fear is what immobilizes the abused. Fear has been a precipitating factor in the deaths of women and children."
As for the victims, she said, "we will not forget them. We will continue to do this work so that the women in our community are not immobilized by fear. We will do this work until there are no names to add to the ' list.'"