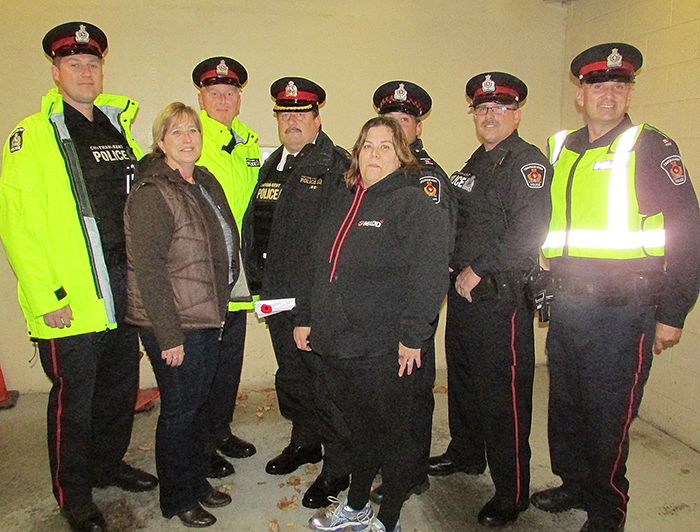 It seems like a no-brainer but with the start of the holiday season comes a reminder from Mothers Against Drunk Driving (MADD) and the Chatham-Kent Police Service to stay sober behind the wheel. If you do have some holiday cheer, take a cab, call a friend or use the services of Home James.
The MADD and the police teamed up Nov. 18, on National Road Crash Victims' Awareness Day, to kick off the Red Ribbon campaign and festive RIDE patrols across Chatham-Kent.
"We just want to remind everyone to drive sober and of the toll drunk driving takes on a victim's family; their lives are changed forever," said MADD CK community leader Janine Carr. "Just ask the family of Tom Young, the cab driver killed by a drunk driver in April, 1999, or the families of the pie ladies."
CK Police Deputy Chief Jeff Littlewood spoke about the increase in RIDE presence year round in Chatham-Kent this year.
"In 2014, there were 86 RIDE programs, 20 through grants and the rest officer initiated. In that year seven people died in crashes and three were alcohol related," Littlewood said. "In 2015, we have already had 125 RIDE programs and 12 more are scheduled. To date this year, four people have died in crashes and none were alcohol-related."
Littlewood said while the police combat impaired driving year round, educating the community with programs such as the Red Ribbon Campaign helps drive the message home.
"MADD is a driving force and have made such a difference out there," Littlewood said.
"Our goal as police is for no alcohol-related deaths across Canada, and RIDE is an important education tool," he added. "I try to do one or two myself, and get positive comments from the public. We see a lot of designated drivers, family members picking people up; the community as a whole is taking part in this. A sad note is that to get something going really good comes out of a tragedy."
Social media is another tool Littlewood said officers use to know where large parties are planned and they set up at the end of the road to be a visible reminder to not get behind the wheel after drinking.
"Officers also have their own intel about where they want to set up. We are out there and visible," the deputy chief said.
Home James is also up and running weekends until Dec. 19 and is available to take you and your vehicle home. Dates also include Dec. 26 and New Year's Eve. Simply call (519) 351-3353 and a team of three people will come and drive you home safely in your own car. Two people will get in your car with you and the third person will follow behind.
Home James volunteers will even drive your babysitter home as long as one parent goes along. There is no fee, but donations are appreciated to help run the program and a portion goes to fund local youth charities.
Comments
comments