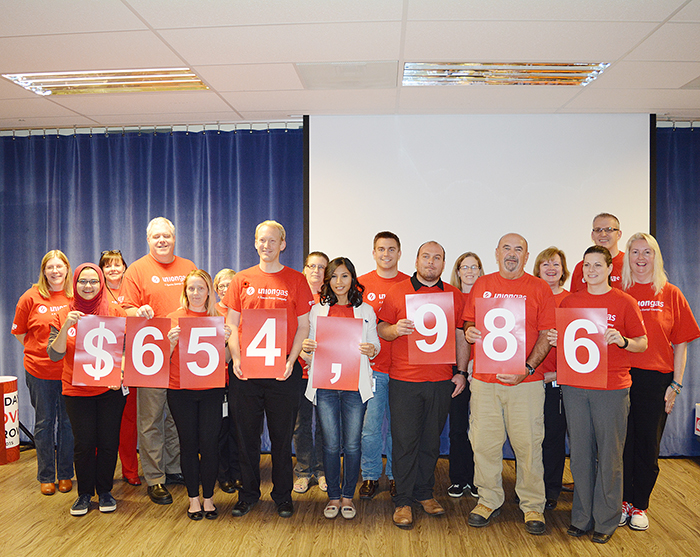 The $650,000 plus United Way contribution by Union Gas last week represents more than just employee and corporate funds, it's representative of an entire "culture of giving" fostered at the utility.
Union Gas Media Relations Manager Andrea Stass said the firm encourages community involvement but the results are very much an employee led effort.
"We have a team in place that works extremely hard to make sure the annual campaign not only for Union Gas but all our charities, is organized, is fun and achieves results," she said.
Events ranging from bringing in food trucks, an internal auction and a "whole range of events" including employees' families keeps the campaign light.
That effort resulted in the largest ever contribution, topping last year's effort by some $20,000.
Overall, employees and retirees across Ontario donated a total of $1,031,953 to United Way and in terms of overall charitable giving; $3 million was contributed to various projects in its service area. Both are records.
"I've been here for 18 years and each year our committee keeps finding ways to top it," she said. "We have an amazing group of employees and with the company matching each dollar, their contributions are recognized in a very meaningful way."
The contribution pushed the Chatham-Kent United Way
to nearly 53 per cent of its goal. United Way has now raised $1,059,028, of its $2,015,000 target.
In a release, 2015 Volunteer Campaign Co-Chairs, Kelly Bayda and Aimee June said they were delighted by this achievement.
"We're very excited about the progress of the campaign. We continue to be optimistic that we will reach our target of $2,015,000. Being at the half way point, it is encouraging that our community is right there with us and lifting this year's campaign to a higher level," said Aimee.
Kelly added, "We can't thank the residents of Chatham-Kent enough for their generosity, however, we still have two months to go and we need to keep the momentum, awareness and spirit in high gear! We have strived to keep our enthusiasm high throughout the campaign from beginning to end. Many workplace campaigns are in full swing and we are looking forward to the days to come. Together, we are possibility."
Announcing this record campaign total at the company's head office in Chatham, Steve Baker, president, Union Gas acknowledged employees and volunteers for their generosity and hard work during this year's United Way campaign, which incorporated the theme of Give Today, Improve Tomorrow.
"I'd like to thank employees, retirees and volunteers who worked tirelessly to make 2015 another banner year," said Baker. "Year-after-year they bring their drive and dedication to raise funds for the United Way and are a shining example of people working together selflessly to help enrich our communities."
Karen Kirkwood-Whyte, United Way's CEO said, "Our local United Way is blessed to have the ongoing commitment of this passionate group of community builders who understand – and value – the work of our organization and its family of agencies.
"In our quest to move people from poverty to possibility, build healthy people and strong communities and give kids the opportunity to be all that they can be … we can always count on Union Gas to do their part. As our slogan says, 'Together, we are possibility.'"
Funds will go to support 18 funded agencies and 14 United Way impact programs, working together to improve lives and build community in Chatham-Kent. For more information, visit uwock.ca or on Twitter: twitter.com/UnitedWayCK.
Comments
comments