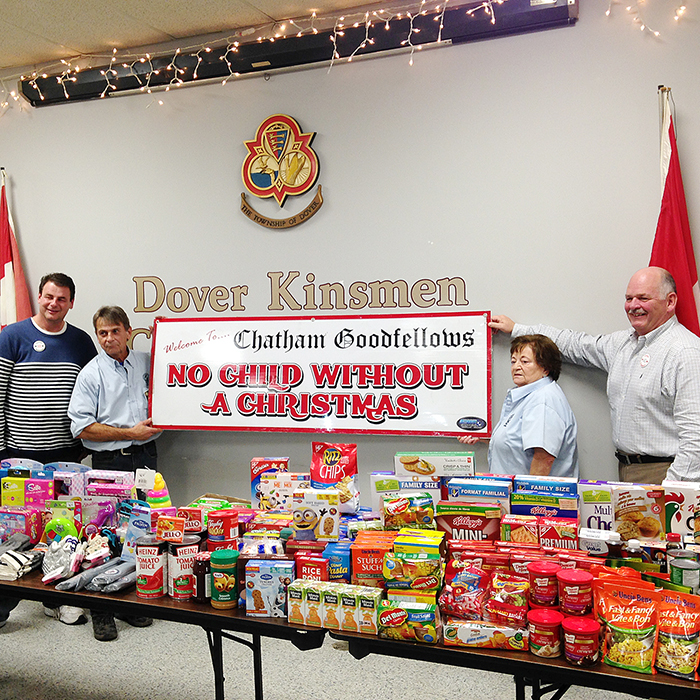 The Chatham Goodfellows went for dinner and came away with the Dover Kinsmen Club's annual donation of toys and non-perishable food items Nov. 18 in Grande Pointe.
According to Goodfellow director Tim Mifflin, the Dover Kinsmen Club has been a long-term partner with the Chatham Goodfellows and he said this sizeable donation provides an excellent start to Chatham Goodfellows 61st campaign.
This year volunteers will raise funds, donate, pack and deliver food and toys for an estimated 1,500 families in Chatham and the former townships of Chatham, Dover and Harwich, as well as partnering with the Merlin Legion to provide for those in need in the Merlin area.
The Porchlight Campaign is set for Nov. 30 when volunteers will go door-to-door selling the Goodfellows newspaper for donations.
For people wanting to volunteer with packing, the toys will be packed Dec. 7-10 at Sunnen Guspro on Grand Ave. E., and food will be packed Dec. 21 and 22 at the Spirit and Life Centre (St. Joe's Auditorium).
Dec. 4 will be last day applications will be accepted for Goodfellow baskets.
For more information or to volunteer, please call 519-354-1146.