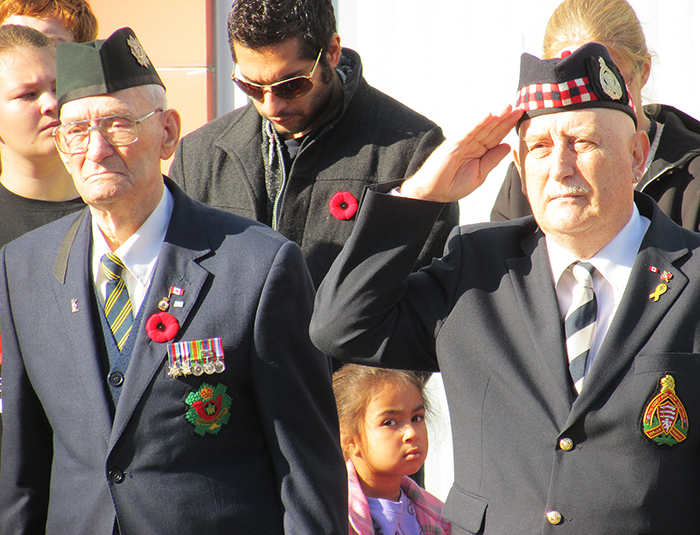 Under a cloudless blue sky hundreds of local residents filled Veteran's Way and King Street this morning to commemorate the sacrifices of Canadians who gave their lives in war.
Among them was the family of MCpl. Kristal Giesebrecht of Wallaceburg, a medical technician attached to the 1st Battalion, The Royal Canadian Regiment Battle Group.
She died Saturday, June 26, 2010 along with another service member when their vehicle detonated an improvised explosive device in Afghanistan.
Kristal's sister Shannon Shepley wept quietly through much of the ceremony. She said afterward she was gratified to see the large number of people who attended the service.
"I'm glad people came out today," she said. "We remember (her) every day."
The ceremony was preceded by a fly by of three vintage airplanes and included participation by the Chatham Christian Schools band and choir as well as a piper and vocalist John Worthington.
Scores of wreathes were laid by services branches, levels of government and citizens. At the conclusion of the ceremony, the cenotaph was covered in a multitude of poppies.
Workers at the Boardwalk on the Thames project nearby stopped and paid their respects from the tower. Chatham Pawnbrokers closed its doors for the morning.
Tom Mountain, chairman of the Remembrance Day Service for Royal Canadian Legion Branch 642 in Chatham, called the cenotaph and area around it "sacred ground" since it was the site of a battle in the War of 1812.
"People died here and many were wounded" he said of the battle in July 1813 when a group of Kent Militia, Caldwell Rangers from Essex, 35 British troops and 200 natives led by Tecumseh held off more than 1,000 Kentuckians for two hours to allow British forces to retreat to Wardsville.
"This was the only bridge crossing McGregor Creek at the time," he said. "The Americans were lined up from the Cenotaph past the Wish Centre but were held off by our much smaller forces."
Mountain said the Chatham Cenotaph is one of very few that is placed on an actual battlefield.