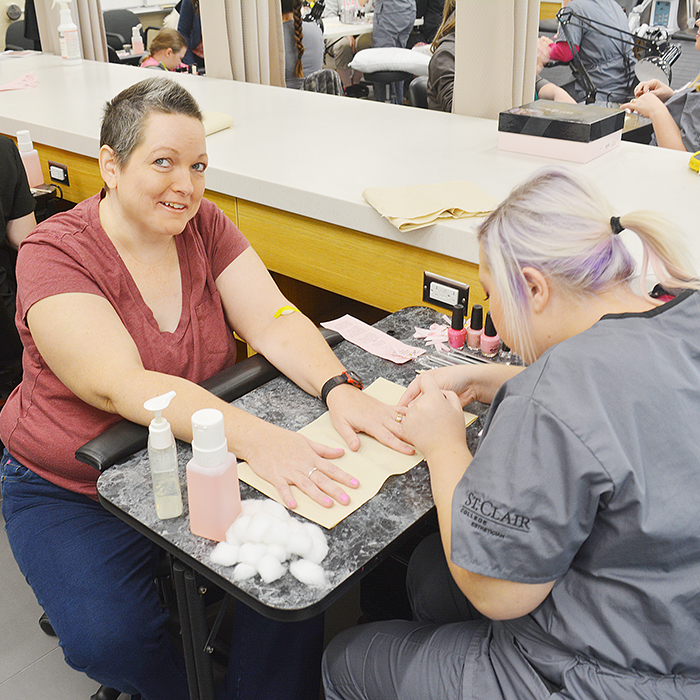 Diane Van Bommel was just like anyone else among the dozens who showed up at St. Clair College Friday to have her nails painted pink in support of breast cancer research.
At least that's the way it appeared at first.
A casual conversation led to an open admission.
"I have cancer and it's trying to kill me."
Chatham Mazda from Chatham Voice on Vimeo.
Such openness and honesty is the way she's dealt with life since she was diagnosed with stage 3 breast cancer on Sept. 12, 2012.
She had what she described as a "gut feeling" to check her right breast where she found a small lump that she and her friends thought was a fibroid.
She had the same gut feeling two weeks later and found the lump had grown to seven cm.
Three weeks after her diagnosis, Van Bommel had a mastectomy and removal of 13 lymph nodes and ten tumors.
She went through six chemotherapy and 33 radiation treatments.
Since her cancer was HER2 positive, it was forcing her body to produce a substance to feed the cancer, making it one of the most aggressive forms of the disease.
Herceptin and Teva-Tamoxifen have been prescribed to fight the disease.
The cancer recently returned with a vengeance, wrecking havoc throughout her body and the prognosis isn't optimistic.
"It's in my lungs, my bones, my eye, everywhere," she said. "I was told I might not make it to Christmas but at my last appointment some of it is shrinking so I just keep on fighting."
When she was given the bad news earlier this year, her first thought wasn't for herself.
"The first thing I thought was how am I going to tell my husband and children that I'm dying? If I didn't have my faith I don't know what I would do."
Still, she's not just content to fight her own battle with cancer. For the past two years she has been blogging about the disease and the Christian faith that she believes is with her 24/7.
"I thank God that I had that gut feeling to check my breast," she said. "If I hadn't, and the tumor had just grown, there is a good chance I wouldn't be here today."
Having faith doesn't prevent Van Bommel from fear of the disease, but it does give her confidence as she writes in her blog:
"Have you recently been diagnosed with cancer and feeling overwhelmed for fear of the unknown? This is normal, I have been there. It is a scary thing, isn't it? The important thing to remember is that you have found your cancer, so something can be done about it. I feel that must mean something, that there is a reason or purpose that GOD still has you here. I believe the fact that we found our cancer is a good thing because it gives us a second chance at life. I am living proof, yes, I am a CANCER SURVIVOR!!!! And you can be too!"
Her blog
https://godgivesblessings.wordpress.com/
features topics including "nurses are like angels on earth, survival stories" and "walk with faith."
She has now reached readers in more than 90 countries with inspirational stories and Christian songs. The award-winning blog contains comments from followers who identify with her struggle.
Laurie Aldrich
March 2, 2014 – 3:03 am
Wow, your case sounds almost exactly like mine. I was just diagnosed 2-13-14. Stage 3, HER2, 7cm, 2 nodes. I will be starting chemo on 3-11-14. Thank you so much for writing this blog! You have brought some sense of comfort to me that I will also be a survivor and what I may expect in the next year or so. I also will be starting with the 6 chemo, surgery, radiation, Herceptin, and hormones. Please keep your blog updated on how you are doing as you have already helped me immensely! God bless!
She's shared her stories and poems with readers in the Ridgetown Independent News where she has a loyal following.
"I really don't know how Diane has so much positive energy to share with others, when she is dealing with so much pain herself," said editor Barb Brown. "She truly is a remarkable lady who is going through so much, but thinks of her family and others first. Diane has helped so many with her poetry, making them think about their lives, remember a loved one, or by just putting a smile on their face. Others should learn from her courage."
Brown said Van Bommel has been known to speak to someone with a problem and then write a poem to provide them with comfort.
"She is an incredible person," Brown said.
Her sister Maryann Sewell said Diane gains strength by talking with others.
"When she reaches out and helps other people I think it gives her courage to keep going," she said. "It helps to know that other people have walked the same path."