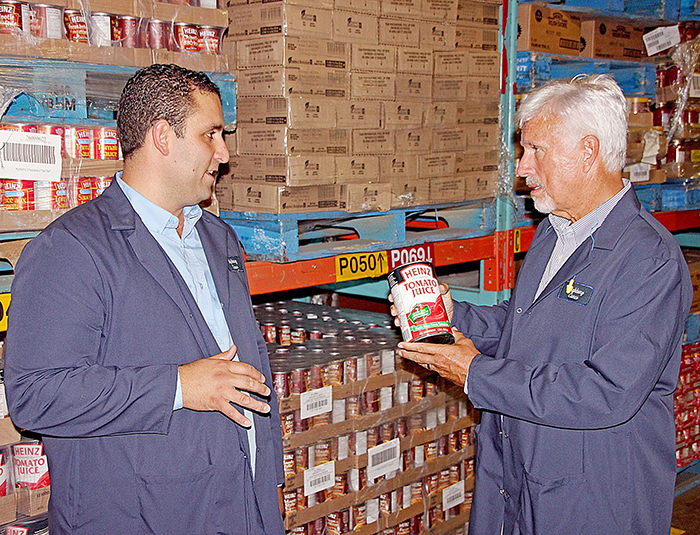 By Bryan Jessop/South Point Sun
Chatham-Kent-Essex MPP Rick Nicholls wasn't about to turn down a rare opportunity in the heart of Leamington.
Highbury Canco offered Nicholls and his executive assistant Larry Landry a 90-minute tour of various departments within the facility recently prior to a presentation just beyond the main office doors along Erie Street South. The exclusive tour took place roughly 13 months after Highbury assumed control of the community's 2.1-million-square-foot factory from Heinz Canada.
Chatham Mazda from Chatham Voice on Vimeo.
Highbury's full-time, permanent employment stood at 250 when it took over July 2 of last year to begin shipping products on behalf of the factory's former owner. Since then, its workforce has expanded to 325 — an increase of about 23%, now at half of Heinz's employment total upon its closure in late June of 2014. Highbury is also in the midst of hiring between 100 and 150 seasonal workers for this year's tomato season.
The tour brought Nicholls and Landry through the company's production/manufacturing, canning, warehousing, shipping and receiving departments. The company is currently utilizing about half of its total floor space, although plans are in the works to put another 100,000 square feet to use within the next 12 months. Increased production will ultimately lead to more new jobs, although company executives noted that it is currently difficult to estimate how many.
"We expect some steady growth over the next couple years, but it's hard to put a number on that right now," explained Highbury Canco president and CEO Sam Diab.
Diab, who worked for Heinz for its final 10 years in Leamington, is credited as a driving force in paving the way for Highbury Canco's arrangement to keep the factory running. Along with vice president of supply chain John Krueger, Diab led the early afternoon tour earlier this month.
The site's warehouse continues to be used fully, as Highbury is the receiving destination for many exported products making their way into Canada.
The plant's shipping facilities are also busy, as an average of 50 to 60 53-foot trailers are filled and sent out daily. Products are loaded onto intermodal trailers, sent Canada-wide by railway and delivered to specific destinations by truck. An estimated 15 train cars are loaded with products awaiting departure from Highbury each day.
"If you see a CN car in this area, chances are its coming here," Krueger noted.
Although portions of the factory are not currently being used, Highbury is active in nearly every former Heinz building, running 31 lines that manufacture about 120 different products to the tune of about 200 million pounds of inventory per year. The company has partners on both sides of the border providing supplies ranging from cans to pallets, including labels from Leamington-based Fort Dearborn on Oak Street West.
"They're a great partner," said Krueger. "They're one thing that I don't have to worry about."
The tour left a positive impression on Nicholls, who described what he saw as a vital component of the region's economy.
"I'm impressed by the cleanliness of the facility and also that since it opened a year ago, employment has increased to 325," the MPP noted. "That's a real positive. I really like the attitude of management here. They're very proactive and innovative. I'm happy to hear that they have expansion in their plans for the near future. This is a place where everyone realizes that with good work comes rewards."