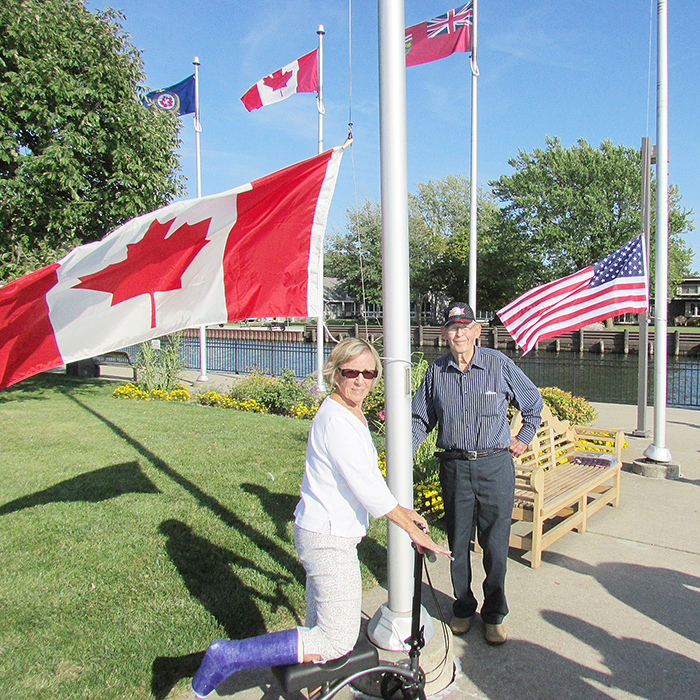 They, walked, limped, drove golf carts and took medical scooters to the end of Mitchell's Bay Wharf for one purpose – to raise a pair of flags – and this time they're staying raised.
Yvette Pinsonneault, the unofficial volunteer caretaker of the wharf's park who's recovering from foot surgery and former MP Rex Crawford, who's recently had a hip replaced, led an eclectic group of about two dozen people who raised an American and Canadian flag at the end of the wharf last week.
Chatham Mazda from Chatham Voice on Vimeo.
The flags, which joined three others at the parkette on the wharf, have been the subject of controversy throughout the summer as volunteers raised them and municipal staff removed them for various reasons ranging from municipal policy to allegations the flagpoles don't work.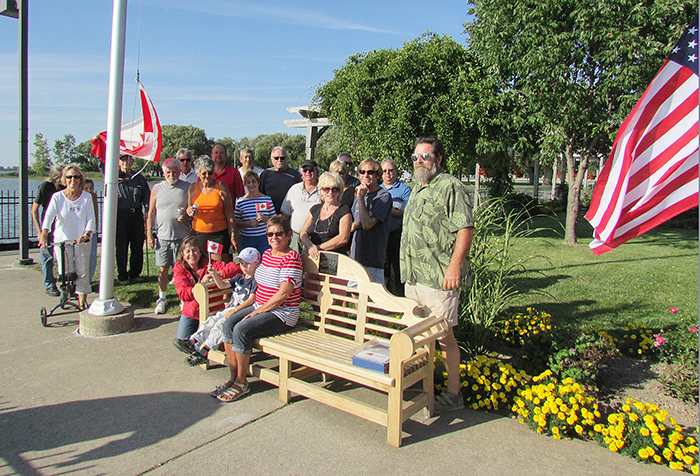 Crawford, who the day before had been lauded at Queen's Park by Lambton-Kent-Middlesex MP Monte McNaughton, for his public service,
(https://www.youtube.com/watch?v=P0u0gtm5r8A&feature=youtu.be) said he was there because he cares about the park and "Yvette asked me.
This is a beautiful little park and most of the credit goes to her," he said.
Jeff Bray, Chatham-Kent manager of parks, cemeteries and horticulture, met with the Mitchell's Bay Area Association (MBA) last week after the flag raising and said the municipality is committed to working with that group.
"It's a great partnership," he said. "They have a great group of volunteers and they are really passionate about their community. We've worked with them on a number of projects and we hope to have more in the future."
Bray said the flags will remain flying through the rest of the season.
Carol Ann Belanger of the MBA said the group is very appreciative of the work Pinsonneault has done and looks forward to working with Chatham-Kent.
"We're getting information on the physical state of the flagpoles, what might need to be done, the cost of replacing flags and other information," she said.
Todd Gurd, assistant to Lambton-Kent-Essex MP Bev Shipley, said the MP's office has no problem providing flags for the display.
"We've helped provide Canadian flags to other groups," he said. "They can become worn and tattered and we don't want to see that."
Crawford said he was "extremely disappointed" in the actions of Chatham-Kent government.
"This simply wouldn't have happened in Dover Township," the former reeve of Dover said. "We've gotten too big for our britches in Chatham-Kent. The municipality hasn't changed in size but we think we're Toronto. It's still a collection of small towns, townships and a city. They need to remember that."
As a dual citizen of the United States and Canada, Crawford said the American flag has a special significance for him as well as others.
In fact, he drove to Michigan last week, purchased an American flag and presented it to Pinsonneault.
"We're about as close as two countries can be," he said. "We have our differences but we've always been able to count on one another."
Jim Riegle, an American from Ohio who's been visiting Mitchell's Bay for 20 years and now has a seasonal trailer there, said he's always appreciated the U.S. flag being at the wharf.
"I love coming to Canada," he said. "We always feel so welcome here and to see the affection for us is wonderful."
The park is a source of pride for the waterfront community and Pinsonneault said she had no problem finding people to help maintain the garden while she recuperates.
"Carol (Caron) and Elwin and Wendy (Green) are taking care of things for me," she said. "They're doing a great job."
"She (Yvette) puts her heart into this," Carol said. "We love it here. It's so beautiful and peaceful."
As the flags were hoisted to the top, the group broke into a round of applause.
"It looks 100 per cent better than seeing the bare poles," Elwin said.