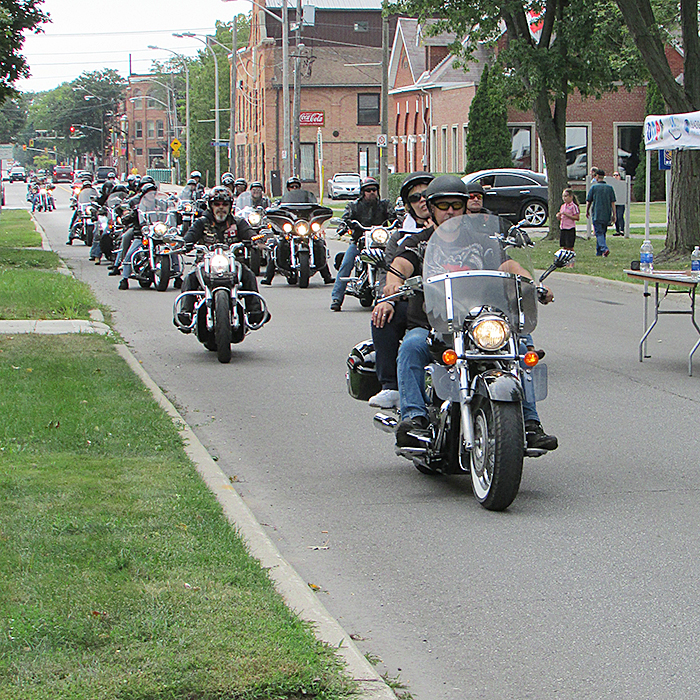 I've been to Bike Fest CK in the past, but this year was the first time I had the opportunity to see the escorted ride roll down William Street and into the Cultural Centre.
A total of 150 riders registered Saturday morning in Erieau for the escorted ride, where police motorcycle cops run with the pack and control intersections to ensure the ride runs uninterrupted.
Chatham Mazda from Chatham Voice on Vimeo.
They rolled into Bike Fest about 10:45 a.m., a continuous stream of bikes coming off Colborne Street and onto William. Most were big-bore Harley-Davidsons and a few Ducatis, so there was a lot of rumble coming into the core.
It was quite the sight, for sure.
Next year, I bet it would be even cooler if the route came down Grand Avenue East, then Thames Street to Fifth, over the bridge and left on King to William. That way, the bikers and the event could feel even more like they were part of the downtown for a day.
Folks of all ages and all walks of life came out to check out the bikes and the event. It drew a lot of people to town.
Excuse me, sir
While at Bike Fest waiting for the escorted ride to arrive, I was "accosted" by security. Three young men approached me and one said I was prohibited from taking any more pictures.
It took a couple of seconds to register, but he turned out to be a teenaged son of a friend of ours, Nate, who had told his son to go pull my leg.
His son, going into Grade 10, is already taller and stockier than Nate. He's developing the build of a lineman in football.
I've known this kid since he was eight, and yet it still took me a moment to recognize him.
He was wearing a hat and sunglasses, so he was in disguise (considering the hat had a rolled brim – something he never used to wear, it was a good disguise).
I have to admit it, this summer, people have come up to me wearing sunglasses and it can take me a moment to recognize them.
Maybe I'm ready to be an extra in a superhero movie. Batman and Superman, for instance, don't sound all that different from their secret identities of Bruce Wayne and Clark Kent when they speak, but people can't seem to put two and two together. Heck, Superman doesn't even wear a mask. It seems a pair of sunglasses can throw me off, so…
The best of both worlds
When football and baseball collide on TV, it's a sign of fall. It's still the NFL preseason, but Sunday night was a little bit of sports nirvana for me.
The Raiders received a rare national television slot, hosting the Cardinals, while the Cubs were in L.A. playing the Dodgers in another nationally televised slot.
While I spent the first half of the night watching the Raiders, whose first-team defence looked pretty darned good, the second half was spent mostly glued to the Cubs game, as pitcher Jake Arrieta tossed a no-hitter.
The ladies of the house were kind enough to leave me in my sports cave that evening, and didn't come down to see what I was yelling/cheering about.
And it's not that the ladies aren't sports fans. Mary likes football and is a Lions fan, while Brenna prefers baseball and likes the Jays.
Speaking of the Blue Jays, you know how they are on a huge roll? Every time I tell Brenna they win, she replies, "Of course, it's because I didn't watch them!"
A few weeks ago, we had a great Friday night together when Mary was out at an event. We shopped, talked, made dinner, and then sat down to catch the Jays play the Yankees.
The Jays lost.
The next day, I put on the afternoon game for a few minutes and Brenna sat down to catch an inning.
They lost.
A few years back, I took her to her first ball game. It was in Toronto and the Jays hosted Detroit.
The Jays lost.
The following summer, I took her to Comerica Park in Detroit as Toronto was in town.
Toronto lost (but on a positive note, Brenna found out that the hot dogs at Comerica are the best in the world – her words).
So Brenna seems to think she jinxes the Jays whenever she watches them. While I want to debunk this myth, I'm tempted to not do so until next spring. After all, they're really on a roll.
Comments
comments