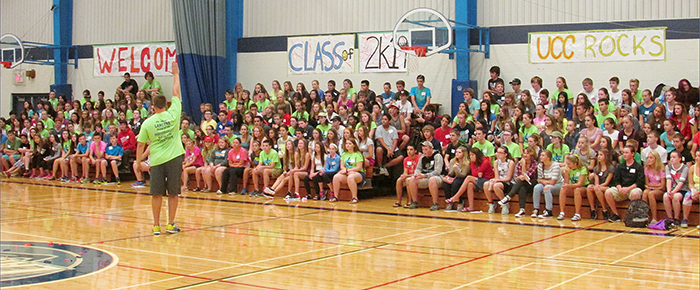 More than 220 young people discovered Monday morning that they were part of a new family
as they participated in Grade 9 orientation at Ursuline College in Chatham.
The occasion was the seventh annual Lancer Link program designed to smooth the transition between elementary and secondary school students.
"We want the incoming Grade 9s to feel like they are a part of the school from the very first day," said principal Ray Powers.
Lancer Link is part of the Link Crew program which teacher Jeremy Zimmer said is the number one transition program in North America.
"The first day of Grade 9 can be one of the most intimidating events of a young person's life," he said. "After orientation, it's so much easier."
Zimmer was one of the first staff members who took the Link Crew training. There are now six staff members who are involved.
Students and staff spent Saturday and Sunday decorating the school and preparing for the event.
The program matches senior student leaders with incoming Grade 9s as mentors. Staff members oversee the process.
"Grade 9s were sent letters by senior students inviting them to orientation," Powers said. "We have about 260 students entering Grade 9 and we had more than 220 here today. Factoring in work and vacation commitments, it's an amazing turnout."
Powers said the program has "transformed the culture at our school."
The event featured two rallies in the gym, a tour, a barbeque and other events to help students bond.
"We even show them where their lockers are, but the most important part of the day is they feel part of something bigger, that they're embraced into our family."
Zimmer said the program has become the school's culture. "We give students the licence to be polite, kind and caring. Every student here has experienced the program and they remember how they felt coming into Grade 9. Those values are really ingrained."
Zimmer said a great deal of the program's value is never demonstrated to staff.
"You're not going to ask a teacher what to wear to a dance, but if we create an atmosphere where you know you're accepted, you will ask a senior student," he said.
Both Zimmer and Powers said the proof of the program's acceptance is that although only 50 students are needed as leaders, more than three times that number apply.
"This is a staff monitored program but it's really powered by the students," Zimmer said. "They make it work."
Comments
comments