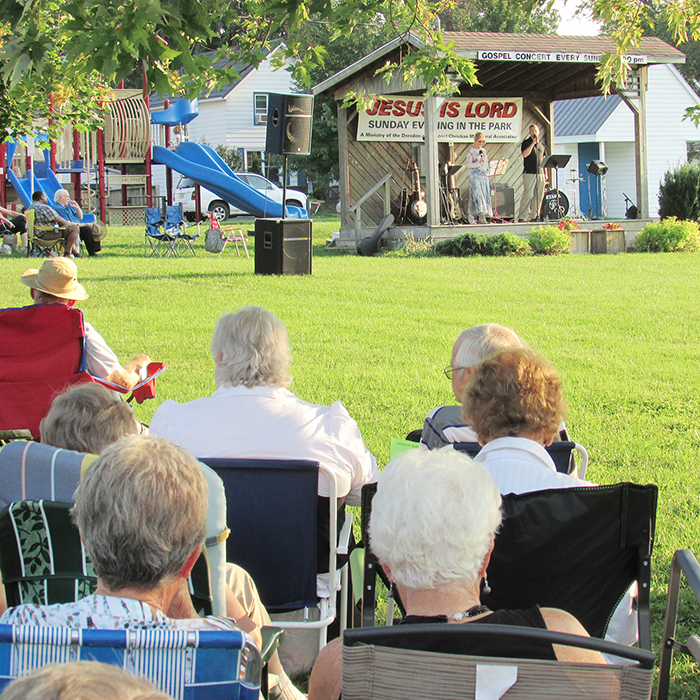 Just as they have for the last 43 years, they start arriving as the sun begins its slide towards dusk.
Some come in shiny new cars, others in vehicles that have seen better days. Some arrive in trucks and others in vans and some on bicycles or by foot.
Out of the trunks come lawn chairs, blankets, strollers, walkers and canes, with the children, the parents and the grandparents.
Chatham Mazda from Chatham Voice on Vimeo.
They're all brought together by one thing – Christian faith as expressed through music.
It's Sunday Evening in the Park in Dresden and promptly at 7 p.m., Jackson Park goes quiet for a minute.
Then it begins, slow and sweet, warm and enveloping, like a summer evening.
Tonight, it's Pastor Gord Tetley & Friends, last week it was the band Mercy and next week it will be One-A-Chord.
Under the banner Jesus is Lord, the band brings forth its musical message for 40 minutes or so before Pastor Tetley of the Louisville Baptist Church begins to preach.
Regardless of who's delivering it, the fundamental message remains the same – salvation through Christ.
Pastor Tetley called it a "weekly family reunion. You're related to me whether you like it or not," he joked with the crowd.
Alexis Shaw, a member of the organizing committee,
said the concerts are an informal way of gathering and giving praise.
"The original phrasing for the event was "come in your car, come as you are" and not much as changed," she said. "It's about as informal as you can get."
She's the keeper of the group's Facebook site.
"I brought up the idea and was kind of volun-told I'd be doing it," she laughed.
The event is formally organized by the Dresden Ministerial Association, a group she's familiar with since her father Paul is a retired minister.
Members of the committee contact potential musical groups and speakers.
"Things go really smoothly except there was a time I had to "volun-told" my dad that we needed a speaker one week," she said. "I told him he was being recruited," she laughed.
Not only do the several hundred people who attend each week keep coming back generation after generation, so do the musicians.
"I had someone from one of the group's say that they'd first performed here more than 30 years ago," she said.
During its 40th anniversary celebration three years ago, one performance attracted 295 cars.
"That's our record but we will often get about 100 cars or so," she said.
The concerts are held from the last Sunday in June through the first Sunday in September, rain or not, she said.
"We have a backup location at the Dresden Community Church and surprisingly, the attendance doesn't suffer too much. The church can hold 300 or more so we have room."
Rev. Shaw said the Dresden event is notable for several reasons.
"We're the only weekly gathering of this type between London and Windsor that I know of," he said. "In fact, this gathering is larger than any single summer church service in the Dresden area."
Rev. Colin Patterson of the Dresden Community Church has been arranging musicians for the past 14 years.
"We have a 50/50 mix of local talent and some larger, more well known groups, some who come back each year," he said.
It's a summer tradition, and one that appears ready to continue for years to come.
Comments
comments