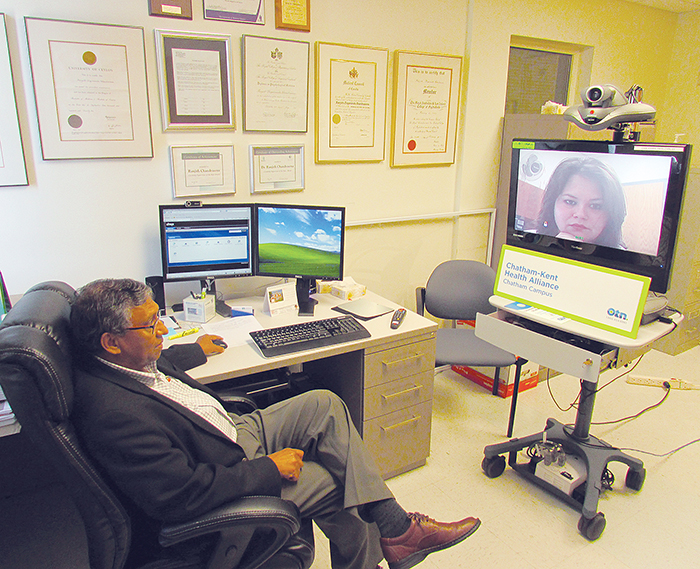 The phrase "the doctor will see you now" will take on a whole new meaning within the next month as mental health patients of the Chatham-Kent Health Alliance (CKHA) will have the opportunity for therapy sessions on their home computers.
The pioneering process is the next step in the Alliance's use of the Ontario Telemedicine Network (OTN) technology for which Dr. Ranjith Chandrasena was presented with the inaugural champion of telemedicine award earlier this year.
Chatham Mazda from Chatham Voice on Vimeo.
Chandrasena, who is the CKHA's medical staff chief and chief of psychiatry, and Paula Reaume-Zimmer, director of operations for the Canadian Mental Health Association, sat down with The Chatham Voice to discuss what both are calling a tremendous jump forward in health-care technology.
The Alliance has been using OTN (a not-for-profit organization funded by the Ontario government and Canada Health Infoway) since 2006.
"OTN is the world's largest provider of its service and we are OTN's biggest user," Chandrasena said. "We've done some excellent work but there's more we can do."
Reaume-Zimmer said as technology improves, so does the use of OTN.
"We had these large bulky screens which limited the ease of use. We now have smaller, more portable units and the development of guest link is a great innovation."
Under the guest link program, patients are sent a one-time link that they use to access a connection with the therapist.
"We have 3,000 cancelled or no-show appointments each year, about 20% of our total," she said. "We've identified transportation and child-care issues as major reasons behind this. With at-home sessions, many of those issues disappear."
She also noted there still exists a stigma regarding mental illness that may cause those who need treatment anxiety about reaching out.
'We're a small community and I know there are people who don't want to be seen accessing mental health care in any kind of a public way, such as waiting at a clinic," she said. "This removes that barrier."
Chandrasena said in many cases there are physical restrictions that make travelling for treatment difficult and stressful.
"We had an individual with a number of health issues who couldn't travel Chatham," he said. "We were able to set up a link with the facility where the person lived, and speak to him and his spouse through OTN."
He said use of technology not only saves money but can also result in a higher level of care.
"Obviously when you have patients who take part in therapy more regularly there is the potential for greater progress," he said. "By using OTN and combining it with our in-house patient information, we can have more data at a glance to determine such things as possible drug interaction, patient history and other information."
Chandrasena said he began using a primitive form of telemedicine nearly a decade ago for a chronic-care patient in Wallaceburg.
"Just the idea of transporting this patient, who had other health issues, to Chatham was time consuming, used a lot of resources and was stressful to someone we were trying to help," he said. "I discovered we had a cable which linked our site with the Wallaceburg campus. We were using it for training purposes and I thought it was a no-brainer that we could use it for patients as well. Everything was going very well until about 18 months later when someone with a backhoe cut the cable. It was then we really found out how much we missed it."
He said there were isolated incidents of staff reluctance in some uses of OTN, but that disappeared once they saw the value.
"It's like anything else, people initially resist change, but it's such an overwhelming improvement that most people recognized it rather quickly," he said.
Comments
comments