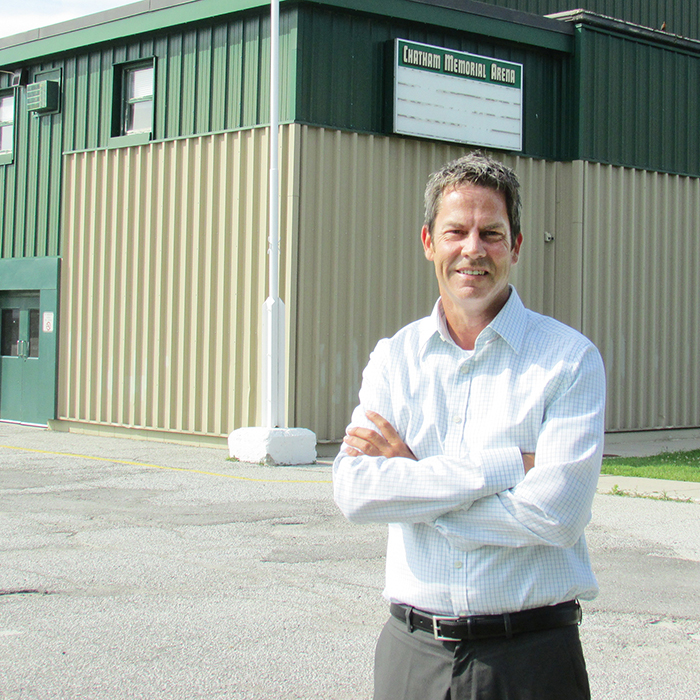 For Mike Pugh, the question of whether or not Chatham will land an Ontario Hockey League team is distracting the community from the real issue of what Chatham's next arena should look like.
"Put the OHL aside for the moment. What we need to do is look at what the community needs now and will need in the future," said Pugh, an investment advisor and Chatham-Kent native. "We don't have to go chasing a team to build an arena we need, but we shouldn't limit ourselves either."
He believes Chatham-Kent Council should form a committee of local citizens and staff to look at not just the cost, but also the potential involved in building a new arena.
"We need a variety of expertise but we can't come at this with a negative attitude," he said. "We need to realize we can be better than we are."
Chatham Mazda from Chatham Voice on Vimeo.
Pugh has been involved in examining local business community support for a Junior A team for the past five years and it has led him to a number of conclusions.
"The first thing I hear when someone talks about a Junior A team is that we don't have a base of large businesses which would occupy suites in a Junior-A-style arena" he said. "The truth is that we have very strong support from medium-sized businesses across the spectrum of Chatham-Kent.
"We've had very strong interest in about 20 suites every time the OHL subject has come up, from the (Niagara) Ice Dogs to the (Erie) Otters to the (Plymouth) Whalers."
He said the negativity that exists around the OHL idea is ill founded.
"I hear that an OHL team will kill Junior B," he said.
"Did it kill it in London? Sarnia? Kitchener? Niagara Falls?"
He said Chatham-Kent must to re-examine its needs from its own basis. He said the 2010 parks and recreation master plan compared the city to areas that don't relate to this community.
"We're not Aylmer and we're not London or Windsor," he said. "We don't need a Budweiser Gardens or WFCU Centre, but to say we only need the different version of what we have is limiting."
He said he believes an arena with hockey seating for about 4,200 and up to 5,500 for other events would be suitable.
"Something of that size could host the Maroons, or a Junior A franchise if that were to happen, but it could also host things such as the Harlem Globetrotters, Disney on Ice or monster truck events," he said.
He said Chatham doesn't currently have a regulation sized-ice surface.
"We have Memorial and Erickson which are really small and we have an Olympic-sized surface at St. Clair College with virtually no seating," he said. "It just doesn't make sense."
He said he favours a twin-pad development with the second ice surface having limited seating in the 300 to 500 range.
"That will give us the most value for our dollar," he said. "We can operate at one site, close the other two and be far ahead.
"We can build a good arena at a cost of about $8,500 per seat," he said. "It doesn't have to have a marble entranceway or a two-storey glass façade."
The difference between building an arena the same size as memorial and one with more versatility is between $2 and $3 per month on the average tax bill, he said.
"Name me one other facility that can be used by young and old, men and women, people of all income levels and will be a source of civic pride," he said.
He said a much smaller community built a 2,500-seat arena nearly 70 years ago.
"Are you going to tell me we have so little faith in our community that we haven't gone one step forward," he said. "What does it say to firms which may be interested in investing in Chatham if we won't even invest in it ourselves?"
He said an arena with comfortable seating; updated washrooms and concessions would spur attendance for the Maroons and minor hockey tournaments.
"People say we are an aging community and they don't want taxes to go up," he said. "But amenities such as an arena help us grow. If we continue to just watch us decline, believe me taxes are going to increase a lot more because there will be fewer of us to pay them."