A confrontation between municipal employees and landowners at a Langstaff Line property may become the flashpoint for a property rights movement in Chatham-Kent.
At the heart of the dispute is what will happen to approximately two dozen vintage cars and tractors, as well as century-old farm implements, stored on a 1.75 acre rural property in the former Chatham Township.
On June 25, Paul Lacina, the municipality's chief building official, attempted to bring a group of bidders onto the property to determine what they would charge to remove the vehicles. They were met by a dozen members of the Ontario Landowners' Association.
"We told them they had no right to trespass on our land and that they would be subject to a fine if they did so," said Steven Granger who co-owns the property with his mother, Susan Granger.
"We called the police right away," she said.
Chatham Mazda from Chatham Voice on Vimeo.
Lacina showed his identification, and OLA members stood aside, taking photos and recording conversations.
"There were eight or nine contractors who showed up to bid, but some of them wouldn't go on because Mr. Lacina wouldn't guarantee who would pay their fine," Susan Granger said.
Chatham-Kent Police showed up after Lacina had left, and refused to lay trespass charges, despite photos showing Lacina on the property.
"They told us they had to witness it themselves, but they requested that the OLA provide them with information." Susan Granger said.
Lacina said under the bylaw, the winning bidder removes the material, sells it and keeps the proceeds, and then bills the municipality for the removal. That charge is then added to the property owners' tax bill.
The Grangers and the OLA contend that the municipal property standards bylaw doesn't apply to private property and cite a 2012 Ontario Court of Appeal ruling backing their belief that the municipality cannot enter private property or remove items it finds there.
In that case, in the Municipality of Georgian Bluffs (near Owen Sound) the property owner was awarded more than $70,000 in costs after a similar incident.
Lacina said he was aware of that case, but after the matter was referred the C-K legal department, he is certain the municipality is within its rights to continue.
The Grangers have used an Ottawa law office to send a cease-and-desist letter to the municipality, and are prepared to take action to defend their property.
"We've been fighting this since January of 2014 and we found we needed legal help, as well as that of the OLA," Steven Granger said. "We've been treated very poorly and after a while fighting with government just wears you down."
The property standards bylaw is complaint driven, Lacina said and the municipality had to act once it received a complaint, which it did.
"We investigated. It was appealed to the property standards committee where our decision was upheld, we've granted extensions, but eventually we have to do our job," he said. "I think we've been extremely lenient."
Steven Granger said there is no environmental issue since the vehicles have been drained of gas and oil and he even volunteered to build a fence around the property if the sight of the vehicles is the problem.
"We were just told, 'No – you can't build a fence on your own land,'" he said. "They're making us feel like criminals on our own property."
Susan Granger said she and her son have been treated dismissively.
"When we went to the hearing, they just told us Steve's stuff was junk," she said. "He's been collecting cars for years, and he's had offers for quite a lot of money for some of the cars. It's the kind of thing you see on American pickers. They (C-K officials) don't know what they're talking about."
Susan Granger said the complaint is a case of neighbour spite from one individual and the municipality is being used to settle the dispute.
She said the land has been owned by generations of her family.
"I have the Crown deed from 1832," she said. "My father was born there in 1910 and some of the threshing equipment there was from his father. When you can't have farm implements on a rural property, it makes me think Chatham's running the show."
The contract for removal has been awarded to Gagnon Demolition of Essex County for $5,800. The work is expected to be carried out by the end of the month. Whatever the firm takes from the property will be sold for profit and the firm will keep the money. The cost of removal will be placed on the Grangers' taxes.
Jeff Bogaerts of the OLA said the attitude of Chatham-Kent officials shocked him.
"I'd call it arrogant," he said. "We've shown them the case law, we've tried to help, but it's a case of they're going to do what they want and they don't care. Individual rights don't matter."
He said he expects the publicity will prompt other Chatham-Kent residents to join the OLA.
"Once people begin to realize what's happening and how it isn't legal, they will want to protect themselves and know their rights."
Lacina said the municipality has about 15 cases each year where it has to undertake clean-ups.
"It's our goal to work with property owners, but on occasion we just can't."
Steven Granger said he's weighing his options.
"There are a number of things we're investigating but I'm not about to give that information to Chatham-Kent," he said. "But having someone take my property isn't what I expect will happen."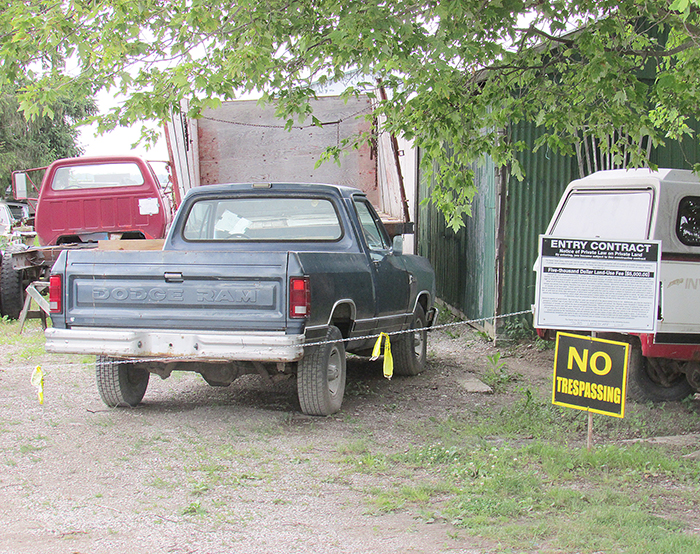 Comments
comments
« Teen charged for stealing truck Home burns in Wallaceburg »