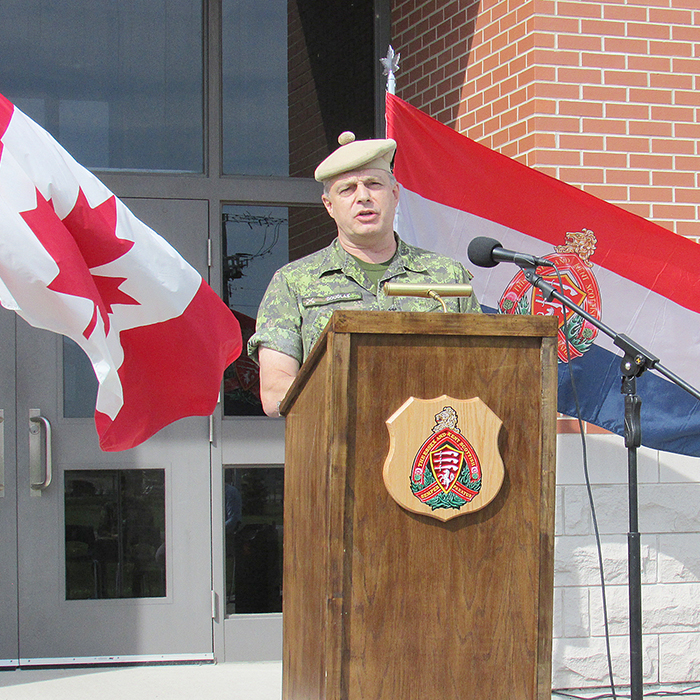 Military training facilities in Chatham-Kent will be getting more than half a million dollars in upgrades as the result of an announcement Monday by Chatham-Kent-Essex MP Dave Van Kesteren.
Van Kesteren made the announcement at the Col. E.M. Ansell, Armoury on Bloomfield Road. That building will receive repairs and upgrades to emergency lighting, heating and ventilation systems as well as work on the roof.
The remainder of the $540,000 funds will be used to upgrade facilities at the Cedar Springs Range and Training Centre.
Work on some aspects of the project will begin this autumn.
Van Kesteren called the infrastructure essential to allow the Essex and Kent Scottish, now part of the 31st Canadian Brigade Group, to continue its specialized infantry training.
He noted that the Essex and Kent has played a role in every conflict from the war of 1812 to Afghanistan. Van Kesteren said infantry continues to be the backbone of military missions.
Maj. Mark Douglas, commander of the Essex and Kent, agreed that infrastructure funding isn't "glamorous," but it is critical to help produce well-trained personnel.
The Ansell Armoury was opened in 2006 and is built to be home to about 100 troops and the Kinsmen 294 Air Corps. Some 35 Canadian Forces personnel use the building on a regular basis.